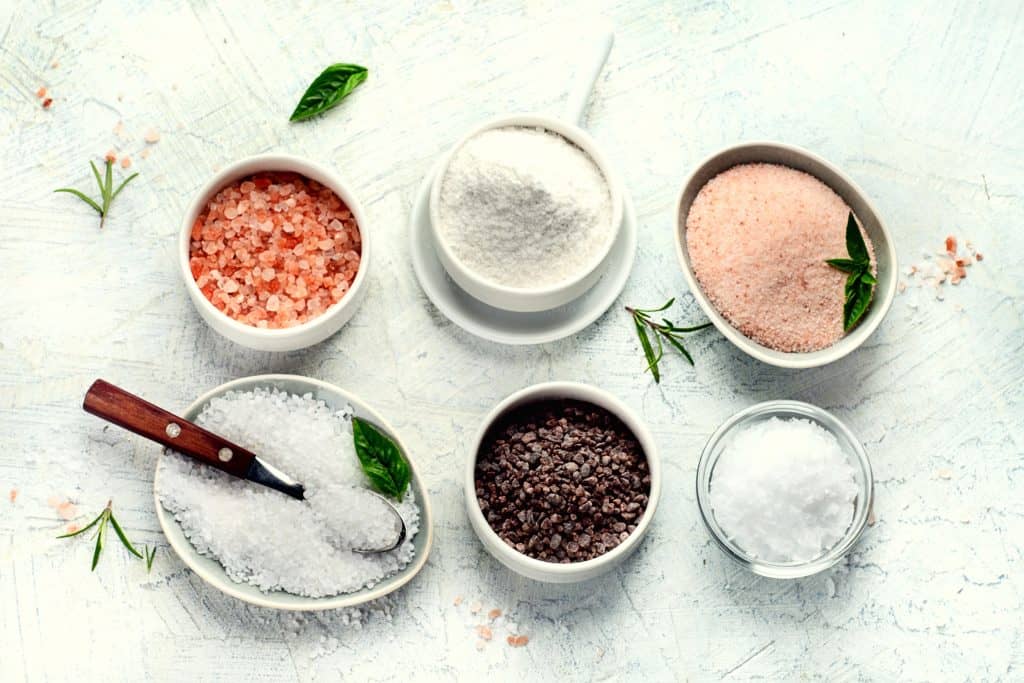 Salt is perhaps the most important ingredient in cooking. Without it, we would all be adrift in a sea of blandness. Use salt correctly and your food will taste good. Salt enhances aromas, balances sweetness, and reduces bitterness. It also heightens our pleasure of eating.
Salt is a mineral: sodium chloride. All salt comes from the sea. When sea water evaporates, it leaves salt behind. Most of the sea salt comes from the Atlantic or long-forgotten, prehistoric lakes. Rock salt is mined from ancient lakes and seas which are now lying far underground.
Types of salt
Expert chefs usually have an allegiance to one particular variety of salt and they might even give impassioned and lengthy arguments as to why their choices are better than others. But, truth be told, what matters most is how you use salt and also how familiar you are with it.
Is the salt you use coarse or fine? How much time does it take to dissolve in a pot of boiling water? Does the salt contain anti-caking chemicals? Is it iodized? All these can impact the taste, colour, and even the texture of the dishes you are preparing.
For example, when you ferment or make pickles, it is best to use chemical-free salts otherwise the brine would darken and there would be sediments at the bottom of the jar. In short: know the different types of salts and your dishes will look good and taste great.
Here are the different varieties of salt:
Table Salt
Table salt is the most common variety of salt you'd find in most kitchens, especially in salt shakers. Shake a few crystals onto your palm and you'd see distinctly cubical salt crystals.
The shape is a result of crystallization in a closed vacuum chamber. Table salt is small and densely packed and its small size makes it very salty. So, a little goes a long way when it comes to using table salt. Almost all table salts are iodised, unless otherwise mentioned.
Morton Salt Company started iodizing salt in the early 1900s when iodine deficiency was rather common. However, ask any expert chef today about iodized salt, and chances are that s/he would tell you to avoid iodized salts. Iodine makes everything taste rather metallic.
You can get iodine from other food sources like sea-food and dairy so you don't need to use iodised salt (unless you have iodine deficiency).
Moreover, table salt is packed with anti-caking chemicals. These prevent clumps in the salt. Iodized salts also contain dextrose – a sugar used to stabilize iodine in salt. Both dextrose and anti-caking chemicals may not be harmful to us, but they tend to impact taste, flavour, and colour of our final dishes. There is really no reason to suffer.
Sea Salt
Sea salt is the salt obtained from evaporation of seawater. Solar sea salt such as Maldon salt, fleur de sel, and sel gris, are a result of gradual, monitored evaporation that can take up to 5 years! That is why good brands of slow-evaporated sea salts are expensive and you get what you pay for.
Sea salt crystals literally are shaped in delicate floral petal shapes and they also have a distinct aroma. Maldon salt, also known as flaky salt, obtains a hollow pyramidal shape and contains many sea minerals like magnesium chloride and calcium sulphate.
Naturally, you'd want to use sea salt for its texture and appearance and would not use it for stuff like salting the water while cooking pasta or vegetables. Sprinkle these delicate and beautiful salt crystals atop your lettuce, potatoes, egg salad, or on your chocolate brownies, or choco-chip cookies just before they go into the oven, so you can enjoy its crunchy texture once finished.
Himalyan Salt
Himalayan pink salt is the salt mined by hand from the Khewra salt mines in Pakistan. These mines were formed millions of years ago, when a sea evaporated and the geological movements trapped the salt in pockets.
Himalayan salt is minimally processed other than a bit of grinding on stone grinders. It also has a pretty pink colour.
Himalayan salt is also used to make salt lamps which are known for their therapeutic benefits. There aren't too many scientific studies to substantiate the health benefits of Himalayan pink salt but most people use it for its pretty pink colour.
Kosher Salt
Chemically, kosher salt is similar to all forms of salt though it is crystallised into larger crystals. The large crystal size is particularly beneficial for salting meat. Many culinary experts mainly prefer kosher salt because it contains zero chemicals or additives.
Having said that, it is still important to read the labels on your kosher salt packets as some of them may still contain anti-caking chemicals. Kosher salt is one of the best salts for pickling as it is additive-free which gives clearer brine. The larger crystals of Kosher salt also disperse flavours in a particular fashion.
Hawaiian Salt
Hawaiian salt is a popular salt in Hawaii; it is a type of sea salt which is made by evaporating sea water.
The last remaining functioning salt ponds can be found in Salt Pond County Beach Park in Kauai. Hawaiian salt is used in many regional dishes as people believe that it has healing properties. Like kosher salt, it is chemical-free and minimally processed. It also has a milder flavour.
Indian Black Salt
Indian black salt, also called Kala Namak or Sanchal or Saindhav namak. It is mainly used in Indian cooking. Black salt is devoid of chemicals and is usually minimally processed.
In India, it is used by people with high blood pressure owing to its lower sodium content. Black salt has a strong sulphur flavour due to the mines from which it is harvested. Not many people like this salt's odour and taste. It is available in fine or coarse grains.
Celtic Salt
Celtic salt is also known as French grey sea salt and it is used extensively in French cooking. This salt is harvested off the shores of Brittany, France. It is rich in minerals and usually harvested with wooden rakes so that the metal does not corrode during harvest. Celtic salt is available in coarse, fine, and extra fine crystal sizes.
There is also a light grey, almost purple variety of Celtic salt called 'sel gris', which is collected from the oceanic flats near the coast. This is also available in coarse, fine, and very fine grains.
Salt mineral content
Pure salt contains 39.3% sodium and 60.7% chlorine by weight.
Sea salts contain calcium chloride and magnesium sulphate with approximately 3.5% moisture. This composition varies with concentrating conditions and inland brine salts also contains sodium chloride, sulphate, carbonate, and bicarbonate.
Salts mined from lakes contain metals like iron, copper, and zinc.
Gourmet salts mined from sea, river, and mineral deposits often contain trace macro elements like potassium, phosphorus, iron, calcium, and magnesium. These are generally seen in black salts.
Negligible traces of toxic elements have also been found in black salts including Arsenic, mercury, and cadmium.
Rock salts from Pakistan have shown traces of water-soluble impurities (6.9%), sodium (33.91%), chlorine (60.61%), Potassium (1.58%), and minute traces of lead, arsenic, and iron.
Commercial table salt contains iodine at recommended concentration of 20-40 mg/kg.
Salt benefits
Scandinavian novelist Isak Dinesen famously said, 'Salt water is the cure for everything: tears, sweat, or the sea!' Salt has unfortunately gotten the bad rap over the years. Dr. James DiNicolantonio, the author of The Salt Fix: Why the Experts Got It All Wrong believes that salt has taken the fall for many other harmful ingredients in our foods.
Here are some of the most important benefits of salt:
Just a small amount of salt to a bland dish can heighten all of its flavors and make it taste extraordinary. Salt reduces the need for sugar in dishes.
It acts as a preservative in our pickles and fermented foods like sauerkraut, kimchi etc.
Salt is necessary to maintain the pH levels of blood.
It helps the heart pump blood throughout the body.
Salt is necessary for cell-to-cell communication, digestion, bone formation and strength, and prevention of dehydration.
The sodium in salt is necessary for reproduction, proper functioning of cells, and optimal transmission of nerve impulses to and from the heart and the brain.
Without adequate sodium intake, our blood volume can go down, shutting down certain organs like the brain and kidneys.
Simply put: without adequate salt in our bodies, we would probably die.
Best salt to cook with
Sherpa® Pink Gourmet Himalayan salt is sold by the San Francisco Salt Company. It is 100% naturally pink salt that contains trace minerals like calcium, iron, magnesium, copper, and iron. Sherpa pink Himalayan salt is ideal for seasoning vegetables, pasta, meat, everyday cooking, and even baking. It is devoid of allergens like soy, MSG, gluten, dairy, etc.
Pros
Can be added to bath water for its amazing health benefits. The magnesium in the salt works on tired, achy muscles, relieves fever/aches/pains, and soothes away stress.
Great for making brines, rubbing meat, sprinkling on salads, as well as in daily and gourmet recipes.
Good for gifting owing to great presentation.
Great flavour and value for money.
Cons
You need to grind the salt before use.
Takes forever to dissolve.
People who try Redmond Real sea salt never go to any other salt again! Its natural, healthy flavour enhances the taste of your everyday cooking and makes every bite delicious. Thanks to its blend of ancient sea minerals, even doctors recommend Redmond Real sea salt.
Pros
Why buy salt from India, Pakistan, or Tibet, when Redmond Real sea salt is mined in Utah and means fewer 'food miles' and ethical labor standards?
Redmond Sea salt is various sizes including one, two, or three packs of 16 ounces each.
Recommended by Dr. Ken Berry, the author of 'Lies My Doctor Told Me'.
Great packaging; comes with an easy-to-pour spout.
Contains 60+ trace minerals.
Beautiful pink colour.
Preferred by chefs.
Cons
Tendency to clump.
Tends to contain sandy, gritty material.
Does not dissolve readily.
The pure and natural salt from Diamond™ is ideal for Passover. You can also use this additive-free salt for pickling, daily cooking, as well as baking.
Pros
Has a beautiful flavour, colour, and texture
No clumping-issue despite it not having anti-caking agents
Product of USA
Finely ground texture does not need additional grinding.
Cons
Non iodized which may be an issue for some
Less salty, so you might need to add more, especially in certain dishes.
Maldon Salt Company has been around since the 1880s and these gourmet salt flakes are loved by chefs the world over. When you select Maldon sea salt flakes, you get a balance of superior texture, great flavor, and health benefits. Health-conscious people love these salt flakes and it is ideal for seasoning and decorating.
Pros
These sea salt flakes are made using artisan techniques.
There are no additives or chemicals in Maldon sea salt flakes.
Perfect balance of minerals, unique crystal structure, and soft crunchy texture help enhance any dish. Ideal for salads, sandwiches, and vegetables.
Thousands of happy customers and positive reviews.
Do not let its appearance fool you; this isn't just a finishing salt.
Ideal flavour, presentation, value for money, and great for gifting.
Cons
Morton iodized salt is made from the waters of the Pacific. It is packaged in the United States and is one of the most popular salts in the country for every-day cooking.
Pros
Proudly packaged in the USA.
Ideal crystal-size, flavour, and colour. Measures like table salt.
Iodized salt.
Cons
Contains many chemicals like bromide which is added to stabilize iodine as well as dextrose sugar.
Not suitable for pickling and fermenting as iodine and chemicals can inhibit good bacteria.
Celtic Sea Salt is a popular, fine-ground sea salt that comes highly recommended by thousands of people. The versatile product comes in various sizes including half pound to 22-lb bags.
Pros
Lower in sodium than regular table salt
Certified kosher and non-GMO
Additive-free.
Made in France.
Finely ground crystals suitable for various dishes.
Original and trusted sea salt since the 1970s.
Ideal for fermenting or pickling
Recommended by experts for people with high blood pressure and water retention.
Ideal for baking, gourmet cooking, herbal teas, and every-day cooking.
Great flavour and presentation; total value for money.
Cons
Does not dissolve easily in water and leaves dark sediment.
Iodine-free, so not suitable for people with iodine deficiency.
Plastic packaging in larger packs.
Saltverk lava salt is handcrafted and contains activated charcoal along with healthy salts to give you maximum health benefits. The salt is hand-harvested using green geothermal evaporation technique and brought to you straight from Westfjords of Iceland. This is indeed the salt straight from the Viking's waters!
Pros
The salt dissolves readily in water imparting the blackish colour of activated charcoal.
It detoxifies, heals, and nourishes the body.
Flakes are of fine consistency and you do not need a grinder or mortar to make them fine; it easily crumbles by fingers.
No egg/sulphur flavour or aroma like many black salts.
It is non-iodized and chemical-free making it wonderful for your pickling projects.
Ideal for salting salads, corn-on-cob, potatoes, and other lightly coloured dishes.
Great flavour, comes in a reusable glass jar, and is total value for money.
Cons
Glass jar could break/damage during shipping.
Expensive compared to other salts.
Enhance the taste of your dips, salsa, and sauces with this garlicky salt that offers the perfect texture, flavour, and colour along with health benefits.

Pros
Organic garlic Himalayan salt is 100% natural. It is best suited for potatoes, pizzas, soups, broths, stews, pastas, dips, and sauces, owing to its perfect balance of salty and garlicky flavour.
Himalayan pink salt is naturally healthier than most other salt varieties as it contains many minerals and trace minerals.
San Francisco Salt Company ensures keeping this salt free from gluten, anti-caking chemicals, preservatives, dyes, colours, hydrogenated oils, corn syrup, and MSG.
This Kosher-certified salt is packaged in the United States in a stringent-quality based organic facility and is GMO free.
Great flavour, great taste, and total value for money.
Cons
Like any black salt or kala namak, Jalpur black salt has a slightly tangy and egg-like taste which can enhance certain dishes. Black salt is certainly healthier than table salt owing to its lower sodium content.
Pros
Black salt is ideal for making vegan, egg-substitute dishes as it has a peculiar sulphurous odour.
Kala namak is healthier than table salt.
Inexpensive; little goes a long way.
Jalpur black salt contains iodine.
Stone-ground, minimally processed, and hence contains fewer chemicals.
Has a fine texture that is suitable for many dishes.
Cons
Its strong odour may not suit all dishes.
Black salt tends to discolour food.
Iodine content makes this salt unsuitable for making pickled vegetables.
Potential side effects
The Roman word for salt is salus and Salus was also the Goddess of Health. Unfortunately, most diets in highly industrialized nations are all higher-salt diets and the prevalence of hypertension in these nations is well documented. Research also shows that, without exception, low blood pressure societies are all low salt societies.
Excess salt intake can hinder calcium absorption and lead to bone loss.
High blood pressure, if left uncontrolled, can lead to disability, stroke, eye problems, and kidney failure.
Recommended intake
The upper limit of sodium intake for adults, per day, is 1500 mg. That is equivalent to ½ to 3/4th tsp of salt daily.
Most Americans consume an excess of 2000 mg of sodium per day which is equivalent to 5g or 1 tsp of salt.
Many restaurant meals contain even as high as 5300 mg of sodium! Packaged foods additionally contain other sodium sources including soy sauce, MSG, and baking soda, and so on.
Many low-fat packaged foods contain additives, flavor enhancers, and sodium-rich preservatives to enhance the taste and compensate for the lower fats. All these can increase one's daily salt consumption unknowingly.
Conclusion
Salt is one of the most overlooked ingredients but it is actually one of the most important. We all take it for granted and rarely stop to consider its role and importance from the point of view of nutrition.
Salt is a taste enhancer. It balances sweetness, pH, and texture of food, overall flavours and, to an extent, even the colour of food. It even reduces bitterness. Without salt, there is no meaning to food, which is necessary for sustaining life.
Besides being a taste-enhancer, it plays a vital role in the human body. Balanced salt-intake is necessary for acid-base balance, nerve conduction, cell-to-cell communication, muscle contraction, and maintenance of blood volume and water balance in the body.
When it comes to the best salt to buy for cooking, I'd recommend keeping two salt varieties in your pantry: an inexpensive bulk-bin sea salt or kosher salt for everyday cooking and one of the more beautiful Maldon-type salts that come with a beautiful crunchy texture, for garnishing.
Whichever salt you zero in on: always know its texture and taste. Understand how salty it is and how it will affect the flavour of the final dish.
Related posts