If you are a fan of romantic fiction from the Middle Ages, then you might have read how the heroine's lips tasted sweeter than wine' and how her 'kisses were as sweet as mead. Newly married couples were given a month's supply of a fermented drink made with honey so that they would quickly bear fruit and hence the term 'honeymoon'.
Mead, or 'honey wine' has been around for ages and is perhaps the world's oldest, fermented alcoholic beverage. Its rich history transcends cultures and time. Mead has even been mentioned in Beowulf, the epic poem from circa 1000 (naturally, it does not tell us how to make mead!). Worry not: for in this guide, I am discussing a simple homemade mead recipe that will help you make mead like a pro.
What is mead?
Mead is a type of honey wine. There are two other types namely, melomels and metheglins. All three types of honey wines are full-bodied and delicious. You can serve mead with any poultry dish as an entrée, as a dessert or simply as an accompaniment to appetizers that go well with wine-pairing.
Making mead at home isn't difficult at all; you can easily do so with little equipment, once you understand the basic requirements.
The main ingredient in mead is honey, which humans have been collecting for nearly 8000 years. It is believed that mead might have been an 'accidental discovery'.
Early humans did not have the modern tools and techniques of collecting honey and, as a result, they ended up eating hundreds of dead bees along with the collected honey.
They may have washed out the honeycombs and remaining debris, collecting the water in a pouch or vessel. Imagine their surprise when, a few days later, the collected water along with dead honeycomb and bees, had a refreshing sweet-sour taste and rather interesting properties! Thus was born the sweet honey wine or mead.
What does mead taste like?
The taste, aroma, and flavour of mead depends upon the sweetness, strength, and the variety of honey used. And because it is made using honey, most people assume that mead will taste sweet. However, that isn't the case.
It is believed that Attila the Hun was always angry and unpleasant because he preferred drinking unsweetened mead. Then there are people who assume that mead tastes like 'hairy brown ale' since it is the drink of the Vikings.
In reality; mead can be frothing, foaming ale or a full-bodied, delicate, table wine depending upon the ingredients used.
Strictly speaking, mead consists of honey, water, and yeast. You can also add acids and tannins to mead to enhance the fermentation process. All these can affect the taste of the final product.
Many people add flowers, fruits, herbs, and spices to mead. Depending on what you add, you will get different types of meads having different flavours. However, honey is the 'heart and soul' of mead and, to a great extent, it is what decides the mead's flavour.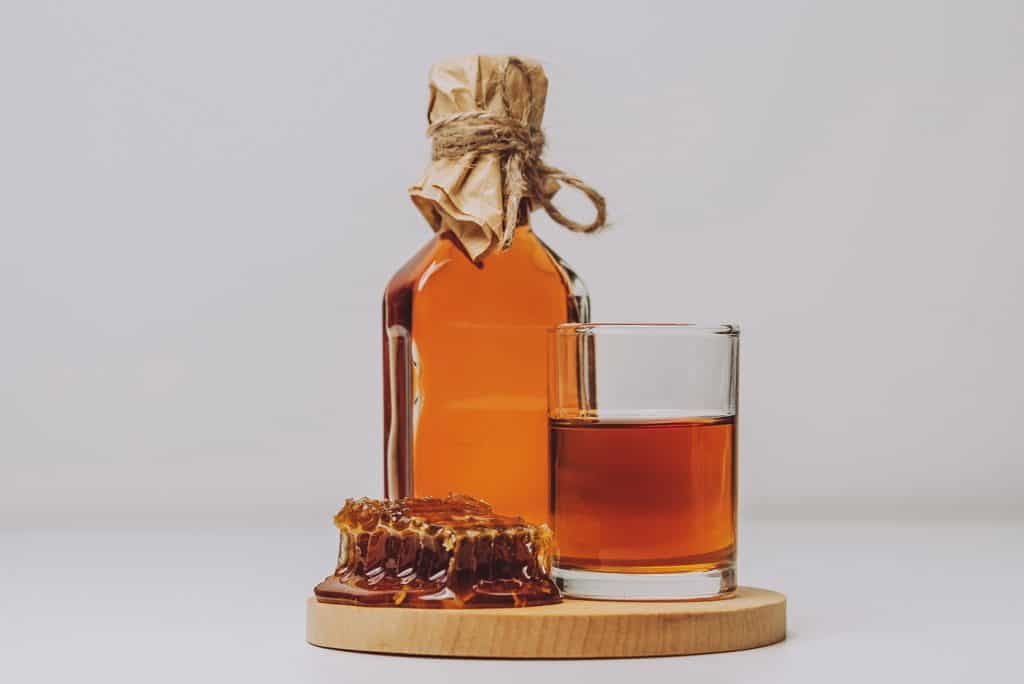 Types of mead
Traditional mead
Traditional mead is one with honey and water; no fruit, flowers, spices, and other additives. All fermentable sugars in traditional mead come from honey.
Traditional mead can be further categorized into dry, semi-sweet, and sweet varieties. These flavours come from the outward differences in the amount of residual sweetness left in the finished product.
Fruit meads (Melomels)
Melomels or fruit meads contain honey, fruit, water, and yeast. The fruit character in melomel must be pleasant and 'supportive' to the honey character. Acids and tannins in fruits can impact the taste of the mead. The type and quantity of fruit used can impact the color of the mead. Here are some varieties of fruit meads:
Apple mead or Cyser.
Grape mead or Pyment
Berry mead
Stone fruit mead (made with fruits that have a large stone or pit inside them, such as plums, peaches, apricots).
Spiced mead
Spiced meads contain spices, herbs, or even combinations of fruits, flowers, vegetables, along with spices and/or herbs.
The taste, flavour, and colour of the mead are all impacted by the type and quantity of the spice/herb/fruit/vegetable used. An example of fruit and spiced mead is rose petal rhodomel.
Ingredients like chocolate, nuts, and coffee are also considered as spices added to mead. If mead contains only spices it is called metheglin.
Equipment
You only need a couple of ingredients to make mead – honey and yeast. In addition, you need a few tools some of which you might already have in your kitchen.
Stainless steel stockpot
You can use a 20-quart stockpot or a smaller one if this is the first time you are making mead. A stainless steel stockpot is ideal for heating water and honey together. Depending on the quantity of honey and water used, you'd need a stockpot to hold that quantity and also leave some room to spare for stirring.
Select a pot with large, sturdy handles that you can grip firmly, even when wearing kitchen gloves. Ensure that the handles are solidly stuck to the walls of the pot. Homichef stockpot is a good choice.
Thermometer
I recommend glass thermometers as they stand firmly in the must (honey-water solution). This makes them easy to read.
You may also use metal thermometers but they are expensive and slightly difficult to read. Ensure that your thermometer can read in increments of 10°F or less.
Plastic fermenter
Plastic fermenters come in various sizes and they have lids with holes on top for inserting the fermentation lock. The advantage of using plastic fermenters is that they can withstand hot liquids. They also allow vigorous primary fermentation.
Glass carboy
Once the primary fermentation stops, you need to siphon off the mead into a glass carboy. The shape and volume of glass carboys leave very little room on the top, thereby preventing oxidation of the mead. Glass carboys do not scratch easily and thus last for years to come.
Fermentation lock and stopper
Fermentation locks come in various shapes and sizes but they all perform the same function. They all use a liquid, either water or vodka, as a seal to prevent contaminants from entering the fermenter and the mead.
You will need a drilled rubber stopper to join your fermenter and the fermentation lock. It is best to buy separate locks for your plastic fermenter and your carboy.
Sanitizer/bleach
Select a no-rinse, non-toxic cleaner/sanitizer for cleaning your fermentation equipment. Avoid sanitizers with chlorine or acids which tend to corrode the equipment you are using.
Racking cane (optional)
A racking cane is optional and you can manually siphon off the mead on top as long as you leave the sediment/yeast cake out. A racking cane simply eases the siphoning process.
In its simplest form, a racking cane consists of a tube bent at an angle; one end of it is dipped into the mead being racked. You may also use a siphon hose with the racking tube as it provides better control over siphoning. This prevents the sediment packs or fruit from getting into your racked mead.
Print
Mead Recipe
---
Author:

Prep Time:

30 minutes

Total Time:

30 minutes
Description
Here are step by step instructions on how to make mead at home.
---
Scale
Ingredients
15

lbs orange blossom honey

4 gallons

distilled water chilled in refrigerator

2

packets yeast (explained below)
You can find good mead yeasts at any DIY wine store. Go in for WYeast 4184 or WLP 720 for sweet mead, or WYeast 4632 for dryer mead. You can also use generic wine yeast for dry mead or sweet wine yeast for sweeter mead. EC-1118 Champagne yeast is also good for mead making. It is solid, dependable yeast that produces smooth tasting mead.
Equipment
Stainless steel stockpot
Thermometer
Plastic fermenter
Glass carboy
Fermentation lock and stopper
Racking equipment (optional)
Sanitizer/bleach
---
Instructions
Sanitize all the equipment with bleach or sanitizer.
Combine the water and honey to make a mixture called the must. Do this in the stainless steel stockpot. There are two ways of making must:

Method 1
• Heat the water to boiling point, then let the temperature drop to about 75°C or 167°F.
• Now add the honey to the water.

Method 2
• This method is suitable for aromatic flavored honey having a delicate, floral aroma that tends to get destroyed due to the heat. Honey is sterile and unlikely to contain yeast. So this method is suitable for the orange blossom honey we are using.
• Heat water to only about 37-40°C or 98-104°F.
• Warm the jars of honey in bath of hot water. (Note: the water bath should be hot, not boiling.) This will dissolve any crystallized honey in the bottle.
• Now tip the honey into the water.
• Whichever method you use, the honey should be completely dissolved in water.
• Chill the must.

Pour the chilled must into a plastic fermenter which is half filled with cold water.
Stir the mixture with a clean, sanitized spoon.
Once the must is at the right temperature, add the yeast:
Activate the yeast as stated on the packet instructions.
Use a thermometer to ensure that the must is 35-43°C or 95-110°F.
Add activated yeast in the must, stir it well, and let sit for 15-20 minutes.
Stir the yeast and must mixture vigorously for few minutes. Now it is time to allow the must to ferment. You can affix fermentation lock on the plastic fermenter. 
Snap the fermenter shut and place it in a clean, dark area where it won't be disturbed.
Ambient temperature ideal for mead fermentation is between 16-24°C or 60-75°F.
Note that mead fermentation is a slow process and it could take about 4 weeks.
At the end of fermentation (bubbling will stop), rack the mead into a bulk storage container for maturing.

About 4 weeks later (after fermentation)
 

Racking is a process of transferring the mead from one fermenter or carboy to another. It helps us get the mead off the spent yeast and also aids in its clarification. . You need to rack the must every 2 weeks or at least once a month until there is no sediment left at the bottom. A long maturing time of 3 months usually yields fine mead with brilliant clarity. If it does not, you can use a 'fining agent'.
You need not use racking equipment for the process, as you can easily remove the top, undisturbed and clear mead into the carboy without the bottom sediment. Make sure you sanitize the carboy before adding the clear must to it.
If you are using a racking equipment, then make sure to sanitize it. Follow the instructions on the racking equipment. Cease racking when the mead in the cane and hose start to appear cloudy.
Place the fermentation lock on the new carboy or fermenter can.
Allow this to rest for a few more days. The maturing process takes at least 3 months and ideally, up to a year. Mead will improve with age.
Once matured, you can bottle and store the mead. Do not bottle the mead in the early stages of maturing as mead fermentation can re-start. Always use clean, sterilized bottles to store the mead.
---
Category:

Fermented Drink
How to drink mead
Serve and drink mead chilled or at room temperature. You can pair it with mild-flavoured foods like fruit, bread, crackers, and mild cheeses.
If you drink mead with a hearty fare, then go in for chicken, fish, smoked meats, or hors d'oeuvres. It is important to allow the mead to 'breathe'; so once you pour it in a glass, allow it to set for 5-10 minutes before sipping. You can also make the following mead variations which are delicious:
Mead spritzer
Use sweeter meads for this recipe
In a tall glass, mix mead and soda together.
Add mint leaves, wedges of lemon, or fruit slices.
Serve chilled.
Mulled mead
In a saucepan, heat the mead to about 170°F or 77°C.
Add spices to the hot mead: cinnamon, clove, ginger, and allspice.
Serve hot.
There are no rules when it comes to mead appreciation. So go ahead and drink it in a fashion you enjoy the most!
Conclusion
You can easily buy mead from a wine shop but you will find that once you make your own, you will definitely prefer it over the store-bought varieties. Experiment in small amounts first until you gain the confidence for making larger batches.
Related posts