Milk has been serving mammals as nectar for thousands of years. It's what makes sure baby mammals get the right nutrients at a young age, specifically provided for them by the female.
This natural resource is highly appreciated by the people. That's why they keep livestock that can produce milk.
Cultures all around the world have gone even further when it comes to cultivating this nutrient boosted liquid. In order to better preserve it and make it last longer (at room temperature), without spoiling, people have introduced the fermentation process.
By fermenting (cultivating) the mammal nectar, we are able to produce a number of products many of us enjoy.
Fermentation is the first step in making cheese. In this article, we will be focusing on other fermented products of milk.
If you want to know more about fermented milk, how it's made, and what are some of the most famous fermented milk products, keep reading!
What Is Fermented Milk?
Milk fermentation is the same as cultivation, i.e. fermented milk and cultured products are the same thing.
What it actually means is that the products you will get from fermenting milk are partially digested by bacteria. Harmless ones such as lactobacillus acidophilus or Bifidobacteria, which are specific types of bacteria that come naturally with the fermentation process.
What this would actually mean is that the milk is now easier to digest and its shelf life is way longer.
At the same time, people who are intolerant to lactose (or other milk allergies) can sometimes digest it. Many cultures have included and still do include fermented milk as a cure against certain unfavorable conditions.
However, there is little scientific research regarding its effectiveness. But it's tasty as heck!
If you want to purchase or make fermented milk products, read on to see what your options are.
Fermented Milk Products
People have the possibility to produce a wide range of cultured products. Fermented food has been a part of traditional cooking in several countries. These products are highly regarded for their probiotic properties as well as high nutritional value.
The primary benefits of consuming fermented food include improved digestibility, added probiotics, unique flavors, and the presence of vitamins and minerals.
Most fermented milk products tend to have a longer shelf life compared to fresh ones. Here is the list of fermented products other than many types of cheese.
1. Kefir
Kefir is a fermented milk product that stimulates good feelings when you drink it. That is actually carved in its name which is derived from the Turkish word "Keif" – which roughly translated would mean "feeling good".
It is perfect when combined with baked goods or other pastries. I mostly enjoy kefir in the mornings with my breakfast although you can have it any time you want.
Kefir is a yogurt-like drink prepared from fermented milk and kefir grains. Kefir is rich in probiotics and can enhance digestive functions considerably. It also has a longer shelf life and hence, is often fermented in large batches and stored for future use.
However, it does taste different than yogurt which you will read more about next. It is less thick and the sourness is very special.
Kefir also incorporates numerous essential minerals, vitamins, amino acids, antioxidants, and enzymes including phosphorus, calcium, magnesium, and vitamins B, D, and A. It has other medical benefits such as improving people's digestion.
In case you make Kefir at home, you can keep it in the fridge for about three months before it spoils. This is very easy to make. If you have the time and energy do not miss to give it a try. To get started, check out my kefir recipe!
2. Yogurt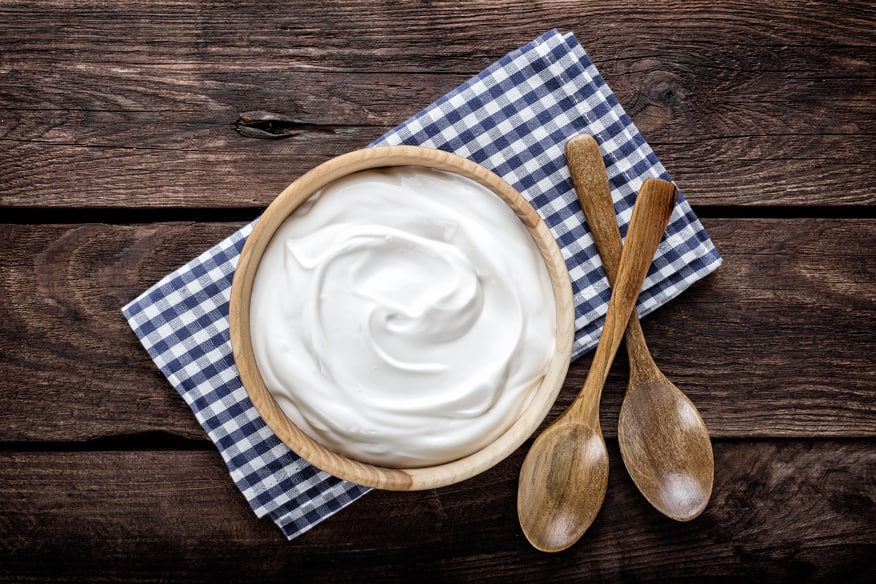 Yogurt has been the staple food of the Middle Eastern diet for thousands of years. Turkish shepherds have literally enjoyed yogurt at 3000 BCE. This fermented product holds the same amount of proteins and fats as the basic liquid used to produce it.
Yogurt also offers a rich source of calcium and vitamins such as riboflavin and niacin.
This tasty drink has multiple benefits for one's health. It plays a significant role in preventing asthma, some gastro diseases, or infections.
However, just like with all fermented milk drinks – do not take too much but be rather moderate! Also, it is best to take it in the morning due to the high level of fats.
Some people use it in their diet to lose weight by drinking it at night to prevent hunger in the morning. This is not something I would recommend.
Yogurt is usually cultured from cow's milk. However, it can also be made from goat's or sheep's milk, each having its own benefits.
Sometimes, non-dairy milk such as coconut, soy, and almond milk are used for making yogurt by adding microorganisms that cause fermentation.
This product is my favorite one in my household.
3. Sour Cream
During ancient times, sour cream was obtained by simply letting the cream go sour on its own. However, today, a proactive process is followed to ferment cream to make it sourer.
The addition of lactic acid bacteria such as streptococcus thermophilus to the cream stimulates the process of fermentation, causing the flavors to become tangy and the texture thicker and smoother.
Sour cream is used as a healthier alternative to mayonnaise (in several dishes) as it has a much lower fat content and fewer calories.
It is a fermented milk product, obtained by fermenting regular cream with other kinds of lactic acid bacteria. This product can later be used for many purposes.
Some of them are turning it into a dip when expecting guests, putting it on bread, or even melting it in the microwave. Everyone has their own thing with sour cream and that's the beauty of it!
One thing you should be warned about is store-bought sour cream which is nothing compared to what you can make at home. Sometimes they don't even use starter cultures nor do they have fermented (cultured) cream in it! If you can – make your own!
4. Cultured Buttermilk
You are all familiar with buttermilk, which is the liquid you drain off when making butter. However, the cultured form of this drink is aiming higher and people use it for more than just eating. Unlike its sibling, the regular buttermilk, this one is more used for cooking.
Cultured buttermilk is boosted by lactic bacteria in order to grow probiotic features (thanks to the good bacteria).
As I already mentioned, cultured buttermilk is used in the kitchen and is highly appreciated. You can use it to tender your meat, flavor it, or even dip the meat in cultured buttermilk before breading it. Moreover, it is always welcome when used for pastry or baked goods.
The thing this product has is very characteristic due to the lactic acid. This is a product that can be found in the store but can also be made at home.
The process is not complicated at all. The real one should have a tiny amount of chunks in it but people are completely capable of making it chunk-free.
5. Clabbered Milk
We already had similar products (kefir and yogurt), so this time we will give you clabbered milk which is quite similar to buttermilk. However, they are different but can be used as each other's substitutes in recipes.
The culturing process behind clabbered milk is something special. People did it like that back in the day and this tradition is still followed.
In order to make clabbered milk, you don't want to use starter cultures. Instead you should have ready-made ones (that can be found in the food or air)!
Drinking clabbered milk brings nothing but wellness to your body. It is excellent for digestive purposes, the immune system and it can impact our cholesterol levels and carcinogens.
However, if you decide to make it at home (find recipes online), make sure that you use unpasteurized milk in order to have all the probiotics you need. This can only be reached by using raw milk, which is full of lactic acid bacteria.
Once the curds and the whey are separated you'll have your clabbered milk. It is completely safe to use as long as you use unpasteurized milk.
6. Cultured Butter
Cultured butter is derived from heavy cream which contains fats and liquids which can be separated in the process of churning later.
You get cultured butter when you culture the cream before churning! This way you get a very creamy and tangy flavor. The cultured butter is high in fats but it is very delicious! You will notice how special its flavor is and it is also very easy to make it at home.
How Do You Make Fermented Milk?
Making fermented milk actually means bringing it into the perfect environment and allowing the good bacteria to multiply.
The process is quite simple and you don't need any special skills, it's going to take care of itself. You have to warm up and contain the fresh milk in order to let it ferment.
Start by understanding that If the milk is warm it allows the lactic acid to multiply rapidly and will sour at some point. For example, if you have freshly drawn milk it should have a temperature of some 38 degrees C.
At this temperature, it will start the process of fermentation which usually lasts 24 hours (the best case scenario). Anyway, if you have regular milk from the store (which is more probable), you want to put it in a warm place, preferably facing the sun.
Later, if the milk is still warm, you should cool down the milk to a temperature of some 16 degrees C. To do so, store it somewhere cooler and wait to see the results.

If you want to speed up the fermentation process and cool down the milk, use the running water. It should decrease the temperature to 16 degrees C in an hour. At this stage, the growth of bacteria will be reduced and the cultured milk will last longer.
This is the so-called natural souring and is mostly used when producing dairy products such as sour cream, yogurt, kefir. Other less known fermented products, typical for Southeastern Europe, are pavlaka (like sour cream but creamier) or kiselo mleko (a similar product).
The fermented drinks comprise a valuable component in our lives, always present on the fridge shelves, and very enjoyable for consumption.
Is Fermented Milk Healthy?
There are debates regarding this topic, but it usually turns out it is definitely not bad for you (if taking an advisable amount). Even more, it has proven its positive effects on the human organism plenty of times [1].
It has been in usage for health benefits in the fights against hay fever, diarrhea, high blood pressure, or the common cold. It also has the potential to play a significant role in the treatment of cancer, asthma, diabetes [2]. However, there is insufficient scientific proof for the latter.
How Does It Help?
Products made from the fermentation process can stimulate antioxidants and improve your digestion as well as anti-inflammatory effects. All of this can lead to disease prevention.
For example, yogurt can decrease the risk of irritable bowel syndrome, type-2 diabetes, and Crohn's disease due to the probiotics it contains [3].
Let's have a clear overview of some of the most popular and delicious fermented dairy products. Later, we chose the top three products to give them a deeper insight.
Benefits Of Culturing Milk
As previously discussed, depending on the circumstances and individual wellbeing, fermented milk products are good for you. It can be a vital tool for fighting certain diseases but it can also make sure you never reach that point in the first place.
On the other hand, it is an amazing way to preserve milk and make it last longer. Hopefully, you found this article amusing and informal. If you are not a fermented milk lover yet, you might start thinking about it.
Sources
https://pubmed.ncbi.nlm.nih.gov/32447398/
https://pubmed.ncbi.nlm.nih.gov/25905057/
https://pubmed.ncbi.nlm.nih.gov/30452699/