You ask anyone, which is the most delicious dairy food and many will say it's cheese. And why not? Just the thought of that bite of sandwich or pizza with melted cheese on the top of it makes us go 'WOW'!
Cheese is a key ingredient in the cuisines of different countries across the world. What makes cheese more interesting it there are several different varieties, each with its unique flavors and taste.
Isn't that amazing?
If you are interested in checking out the different types of cheese, read on to discover the world of this unique and delicious cheeses. The nutritional information provided herein is sourced from the USDA Food Composition Database and is based on the content per 100 grams of cheese.
Types of cheese from different parts of the world
Cheddar
Cheddar cheese is one of the most popular cheeses all over the world. This mild and pungent flavored cheese originated in England. Cheddar cheese comes from the Cheddar village in Somerset, England.
It has a softer, and smoother texture that turns crumbly at times. It appears pale white to orange.
As far its nutritional value is concerned, it has a higher calorie content of about 403 kcal in 100 grams of which 1.3 grams are carbs, 33.1 grams are fats and 24.9 grams are proteins.
Cheddar cheese can be prepared in different ways, which may alter its strength. The strength of Cheddar depends on how long it is aged. The longer the duration of the aging, the stronger the taste.
Mild cheddar that has been aged for only a few months is softer and has a smooth texture and creamy flavor.
Vintage cheddar that is aged for a longer duration is harder and crumbly. It has a sharp, powerful, and tangy flavor. Sometimes, it forms crunchy cheese crystals due to the breakdown of proteins.
Brie
This wonderful cheese from France has mild flavors and a soft and creamy texture. It appears pale yellow and has a white rind that would tempt you to sink your teeth into it.
As far as its nutritional content is concerned, every 100 grams contains 334 kcal of which 0.5 grams of carbs and 27.7 grams are fats. What makes this cheese a healthy option is it offers 20.7 grams proteins.
It originated in the Brie region in Northern France. The delicious soft center of this cheese is surrounded by a chewy rind. Its milder and creamier flavors could be attributed to the cream added to milk before fermentation and the much smaller amount of bacterial cultures such as lactic acid added to it.
The only factor that you may not like about this cheese is its higher fat content. Otherwise, it seems to be the perfect ingredient you can pair with fruits, cured ham, or wine on a cheeseboard.
Camembert
Here's another cheese that originated in Northern France. It is named after Camembert, the town situated in Normandy in France.
The medium flavors of this cheese and its pungent taste set it apart from Brie cheese from the same country.
Its soft, and creamy texture would make it melt on your taste buds while instantly releasing its flavors.
The calorie content of 100 grams of this cheese is around 300 kcal. It contains just 0.5 grams of carbs, 19.8 grams of protein, and 24.3 grams of fats. you can see that the fat, protein and carbohydrate contents of this cheese are on a lower side.
Though Camembert and Brie look similar, Camembert is less creamy. Also, Camembert is fermented or ripened in smaller sizes, thus allowing the process to occur at a faster rate. This is why; Camembert tends to age quicker and is more pungent.
Compared to Brie cheese, Camembert has a deeper and stronger taste. It is also more flavorful, and has a tinge of sour notes. However, the strong pungent smell of this cheese tends to put off some people.
Feta Cheese
Feta cheese is considered the best gift to the world from Greece. The mild flavors of this cheese and its creamy and crumbly texture are unbeatable. This popular cheese from the land of Greece is made from the milk of sheep or a combination of goat's and sheep's milk. It appears like pale curd.
Unlike most other types of cheese, Feta cheese is not named after the place it originated at. The word "Feta" means "slice" indicating the soft texture of this cheese that makes it easier to cut it into slices of any thickness. It is available in a block or a "crumbled" form and is usually packaged in a brine solution.
The calorie content of 100 grams of Feta is 264 kcal of which 4.1 grams are carbs, 21.3 grams are fats and 14.2 grams are proteins.
Though Feta cheese has quite a unique taste, its flavors vary greatly based on how it is fermented or cooked.
For instance, you will find a wide variety of ways in which Feta is used in cooking. It can be eaten raw in a salad, grilled, or marinated in herbs or olive oil. The specific method of cooking alters the flavors of Feta thus giving you a chance to use it in a way that satisfies your cravings.
What's more interesting about feta cheese is it offers several health benefits, which can be attributed to the goats' and sheep's milk from which it is prepared. It is suitable for people who have a sensitivity or intolerance to cow's milk. It is also more nutrient-dense compared to other types of cheese while being lower in calories and fats.
Cottage Cheese
Cottage cheese is quite different from most other types of cheese. It comes closest only to ricotta.
Originated in the United States, this cheese was mentioned for the first time in the early-19th century, when it was made by acidifying curd from milk using a bacterial starter culture.
It has a mild strength and a moist and creamy texture. It's appearance is similar to white curds.
What makes cottage cheese the best option for calorie-conscious people trying to lose weight is it contains lower amount of fats compared to other cheese. Each 100 gram serving of cottage cheese has 98 kcal, 3.4 grams carbs, 4.3 grams fats, and 11.1 grams proteins.
The very low fat and calorie contents of cottage cheese can be attributed to its unique production process.
On the negative side, the appearance of cottage cheese could be a bit off-putting. The lumpy texture of this cheese looks somewhat like cold rice pudding that most people do not like.
However, it does taste good and can be used in various recipes including cottage cheese pancakes.
Cream Cheese
Cream cheese from the United Kingdom has a mild and slightly sweet taste and a soft and creamy texture that most people love. Cream cheese has hundreds of years of history. You will be surprised to know that the first known mention of the cheese goes back to the 16th century making it nearly 500 years old.
It appears like white spread, thanks to its creamy texture, which makes it easier to top on the sandwiches in the form of a layer.
Nutritionally, cream cheese is a lot different from other types of cheese. It has a higher fat content with less of proteins. Each 100-gram portion of cream cheese is enriched with 342 kcal calories, 4.1 grams carbs, 34.2 grams fats, and 5.9 grams proteins.
Cream cheese comes in different flavors and varieties. Even plain cream cheese tastes delicious. And when it has been added with flavoring agents or herbs like garlic or chives, the flavors are elevated to a higher level.
Gorgonzola
This one's from Italy. The sharp and strong flavors and the creamy to crumbly texture of this cheese have made it a favorite topping on most dishes for the people of this country.
It looks like a pale white, yellow skin and contains about 353 kcal in 100 grams of serving. The carbohydrate content of this cheese is 2.3 grams while the fat and protein contents are 28.7 grams and 21.4 grams, respectively.
This strong and powerfully flavored cheese from Italy packs big flavors. It is available in two main varieties: Piccante and Dolce.
Dolce Gorgonzola is typically aged for about three months. It is soft, creamy, and has a texture that makes it easily spreadable. It is also mild and has a sweetish flavor.
Piccante Gorgonzola, on the other hand, is aged for six and twelve months. The extra aging is apparent in the rich taste you will be able to enjoy when you take a bite.
However, it is advisable to pair it with any food instead of eating it 'as it is' because the crumbly and semi-hard texture and the intensely pungent flavors of this cheese may not agree with your taste buds.
Mascarpone
Mascarpone is a soft, creamy cheese from Italy that is made from cow's milk or cream. It is a fresh cheese that does not involve the process of fermentation. Mascarpone has a creamy and mild taste.
Each 100 gram serving of this cheese is enriched with 429 kcal calories, 1 gram carbs, 46.4 grams fats, and 7.2 grams proteins.
As far as appearance is concerned, Mascarpone is creamy white in color and looks similar to a thick, sour cream or yogurt.
Mascarpone spreads easily like cream cheese. It is a common ingredient in several popular foods such as cheesecakes, Italian desserts risotto and tiramisu.
Gouda
This Dutch cheese from the Southern Netherlands is believed to have originated in the town of Gouda. Interestingly, the texture, taste, and flavors of this cheese vary a lot due to the extensive difference in the aging times of its different forms. It is aged from 1 month to nearly 6 months.
Dutch cheesemakers have classified Gouda in six different grades, depending on the duration for which they are aged.
The younger Gouda cheese has mild flavors and smooth and semi-hard texture while the older version is harder and crumblier with deeper flavors.
It contains 356 kcal in 100 grams with 2.2 grams of carbs, 27.4 grams of fats and 24.9 grams of proteins.
Gruyère
This one's a Swiss cheese that contains a richer depth of flavors and a dense and compact texture. This cheese originated from the medieval town, Gruyères, in Fribourg, Switzerland.
It is a hard cheese that is usually aged for 6 months to one year. The longer aging time of this cheese is responsible for its harder texture. As Gruyère cheese matures, so do its flavors.
It is one of the most calorie-dense cheeses. About 100 grams of this cheese contains 413 kcal, 0.4 grams carbs, 32.3 grams fats, and 29.8 grams proteins.
Gruyère cheese can be eaten alone or used for culinary purposes. It makes up for a delicious topping on any food. You can simply add grated Gruyère cheese to your salads, sandwiches, pizzas, or even pancakes and enjoy its deep flavors. It is more commonly used in toasted sandwiches, French stews, and soups. Its orangish color can enhance the appearance of your dish and make it a lot more appealing.
The unpasteurized version of Gruyère cheese, though being higher in calories and fat content, is much tastier. You can use this form of Gruyère cheese on special occasions when you wouldn't mind loosening your control over your calorie intake.
Havarti
Havarti is a Danish table cheese that is revered for its semi-soft texture. The usual aging process of this cheese lasts for about three months.
Like most other cheeses, the flavors of Havarti cheese develop as it ages. The younger Havarti has milder flavors, buttery texture and tangy taste. The older varieties are smoother and creamier and taste sharper with more robust and salty flavors.
It contains about 292 kcal in 100 grams of serving. The carbohydrate content of this cheese is 1.4 grams while the fat and protein contents are 18.5 grams and 30.1 grams respectively.
Havarti goes well with wine, fruit, and cured meat. You can also grill it to add smoky flavors to the dishes.
Mozzarella
Mozzarella is one of the most popular cheeses in the world. It originated from Southern Italy and is traditionally made from the milk of Italian Buffalo. In recent times, Mozzarella is also produced from cow, sheep and goat's milk.
It has mild flavors that are usually enhanced by the addition of herbs. It has a soft and chewy texture and creamy white appearance.
About 100 grams of this cheese contains 318 kcal with 2.5 grams of carbs. 24.6 grams of fats, and 21.6 grams of proteins.
Mozzarella comes in two varieties: dried and fresh.
The fresh variety is just too delicious by itself and when you add olive oil and flavorful herbs to it, it's too hard to resist. It is a frequent ingredient in salads and baked dishes.
Dried Mozzarella, on the contrary, is not as flavorful. It is more commonly used for pizza and lasagna.
Parmesan
Parmesan cheese, also called Parmigiano-Reggiano cheese, has Italy as its country of origin. Parmesan cheese has a POD (protected designation of origin) status, which means it can only be produced in its home region in the Northern parts of Italy.
It is a dry, hard and crumbly cheese having robust flavors. Depending on the period of aging, it has medium to strong flavors and a pale to dark yellow color.
It has a higher calorie content of 431 kcal in 100 grams. The same amount also contains 4.1 grams carbs, 28.6 grams fats, and 38.5 grams proteins.
Parmesan usually comes in unpasteurized or a granular, powdery form. It undergoes aging for about one to three years. That is why it has a rich flavor that can be overpowering when consumed alone. Hence, it is used as a condiment for various dishes or added as a topping to salads or pizza.
Roquefort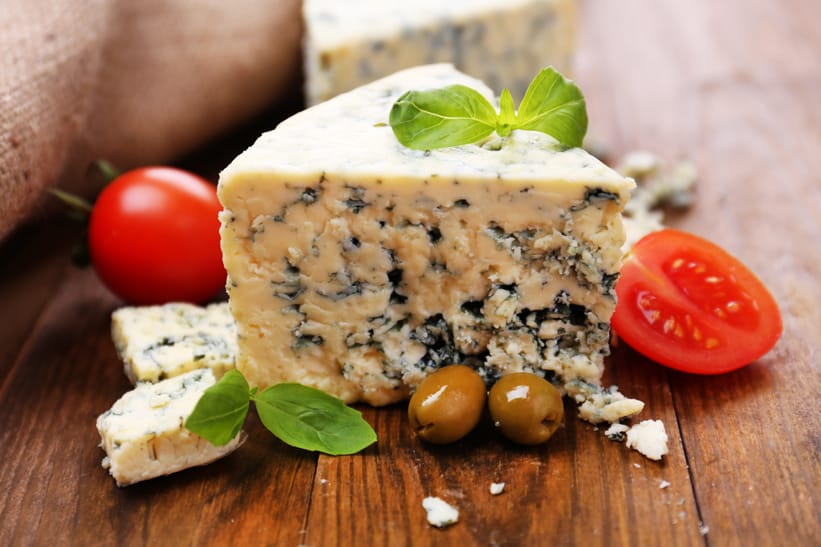 Roquefort is a type of blue cheese from France that is called the 'king of cheese' by natives.
Roquefort is prepared from sheep's milk. It is ripened in the Roquefort-Sur-Soulzon caves in Southern France. It is reported that these caves contain a specific type of bacteria called Penicillium roqueforti in the soil that gives Roquefort its unique characteristics.
Penicillium roqueforti could be beneficial for patients diagnosed with cardiac diseases. It may be able to reduce the risk of heart diseases and restore the heart functions.
Producers usually age Roquefort for about five months, which explains why it has such sharp and tangy flavors. The nutritional profile of this cheese includes 369 kcal, 2 grams of carbs, 30.6 fats, and 21.5 proteins per 100 grams.
Stilton
Blue Stilton is a popular soft cheese from England, which is now exported around the world.
It has a long history too! Stilton cheese has played a key role in the British diet since the 18th century.
About 100 grams of this cheese contains 393 kcal, 3.6 grams carbs, 35.7 grams fats, and 25 grams fats. Stilton cheese also offers an excellent source of vitamin K.
Though this cheese is strong and flavorful, it seems to be milder compared to other varieties of blue cheese and has a bit of a mellow taste. It has a creamy yellow color and a characteristic appearance of tiny bluish veins running from the center toward the edges.
Pecorino Romano
Pecorino Romano is one of the oldest cheeses that is hugely popular for its unique taste. This cheese dates back to Roman times when it was a part of the staple diet of Romans.
It contains about 387 kcal in 100 grams of serving. The carbohydrate content of this cheese is 3.6 grams while the fat and protein contents are 26.9 grams and 31.8 grams, respectively.
Pecorino Romano is made from sheep's milk and is salty and hard. It appears similar to Parmesan cheese but tastes much sharper and saltier. If you appreciate strong flavors, Pecorino Romano could be an excellent choice for you. However, if you are looking for something less strong, you can try Parmesan.
Ricotta
Ricotta is a fresh soft Italian cheese prepared from whey. It has a mild and slightly sweet taste and creamy texture. It appears like white or light cream or thick yogurt. It is one of the most loved types of cheese in the world.
Ricotta cheese boasts of excellent nutritional benefits. It is not just low in calories than most other cheeses but also an excellent source of proteins.
It contains just 174 kcal per 100 grams and 3 grams of carbs, 13 grams of fats and 11.3 grams of proteins. The low-fat version of this cheese is popular among athletes and bodybuilders for its impressive protein content.
Wensleydale
Wensleydale is originally from the Wensleydale village in North Yorkshire, England. It has a whitish to pale-yellow appearance and a crumbly texture. It has a tart-like flavor, hence, it is sometimes combined with fruits like apricots and cranberries.
It is available in both blue and white versions though the white Wensleydale is more popular. It boasts of 385 kcal, 0.1 grams of carbs, 31.8 grams of fats, and 23.7 grams of proteins per 100 grams.
The takeaway
All of us have our own personal favorites when it comes to cheese. Yet, it with so many cheese varieties it's worth trying some other types of cheese from around the world. You might just discover a new favorite.
Having said that, if you are specifically looking for wellbeing benefits, you can try aged cheese from animals raised predominantly on pasture. Parmesan, cheddar, and Gruyère are excellent choices for their nutritional content.
Related posts