Yogurt is very easy to make at home and fans of yogurt will agree that the homemade version is much better than the store-bought one.
All you need to do is get your hands on a yogurt starter culture with active or live lactobacillus bacteria.
You may also invest in a yogurt maker, though it is not compulsory as you can easily make yogurt at home even without a yogurt maker.
So let's take a look at how to make creamy and delicious yogurt at home.
What is yogurt?
Yogurt is a thick, creamy liquid made from milk. It can be made from fresh or powdered milk.
You can easily make yogurt from cow or buffalo's milk, although, other alternatives like goat, sheep and even camel milk is used.
People who do not eat dairy can make yogurt from nut milk like almond or cashew nut milk, coconut milk, soy milk or rice milk.
Yogurt makes a great breakfast meal when topped with fresh or frozen fruits, muesli, chia seeds, coconut flakes and similar. Yogurt is a perfect base for your smoothies and can be added to soups, salad dressings and sauces.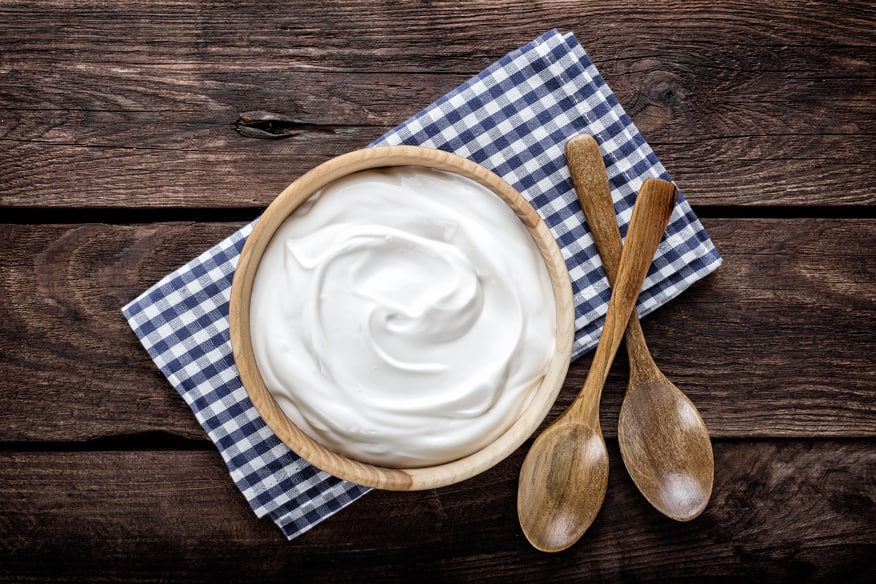 Yogurt fun facts
Who made or discovered the first yogurt culture is a classic question on the lines of 'what came first: the chicken or the egg?' No one knows exactly how yogurt came to be, but it has been consumed since recorded time, that much is for sure.
Some reports suggest that Mesopotamians may have accidentally discovered yogurt making. During this time, herdsmen carried goat and sheep milk in pouches made from animal intestines. These contained enzymes called chymosin which formed gel-like substance when coming in contact with the milk. The warm climate in the region, the storage conditions at the time, and the natural 'starter' may have created the first yogurt or cheese.
Yogurt also traces its roots to Russia. Nomadic tribes in the region fermented goat milk to form kefir, a type of yogurt. The meaning of the word kefir is 'feel good'.
Soon yogurt earned the reputation of being a healing food and was even considered as a gift from the gods.
The first commercial yogurt produced, after a change of hands, was named Danone® after the founder's son Daniel. It was eventually renamed Dannon®, the Yogurt Company that added fruit to yogurt to offset its tart taste. This was met with great success.
While this superfood has been around for centuries, America has only recently awoken to its benefits. Americans have begun to take an interest in yogurt only in the last 50 years.
Benefits of yogurt
One of the most important benefits of yogurt is that it provides us with probiotic bacteria. The word probiotic means 'for life' meaning it is the bacteria that can sustain life itself.
Yogurt is good for digestion. People suffering from diarrhea, constipation or other gastrointestinal issues can eat yogurt to regulate the system.
Unsweetened yogurt provides many simple carbohydrates including lactose which is needed for calcium and magnesium absorption.
Lactose is slightly less calorific than other sugars and hence has a lower glycemic index. This may contribute to satiety, particularly in combination with the whey proteins found in yogurt. Weight watchers can certainly make plain yogurt a part of their diet.
Consuming yogurt instead of milk can relieve or eliminate gastrointestinal symptoms associated with lactose intolerance. This can allow children to take advantage of the nutritional benefits of dairy food intake which include calcium, protein, vitamins, and minerals.
Yogurt protein, like milk protein, contains high-quality essential amino acids which are needed for growth and development.
The beneficial bacteria in yogurt can counter the effects of bad bacteria and prevent diseases and strengthen immunity.
Prolonged use of antibiotics can kill good bacteria in the intestine. Eating yogurt can help replenish the good flora and prevent Candida and yeast infections.
Nutrition facts
| | |
| --- | --- |
| Plain Yogurt (Serving size 226 grams or 1 container) % daily value | Fruit Yogurt (Serving size 226 grams or 1 container) % daily value |
| Calories 110 Calories from fat 0 | Calories 240 Calories from fat 25 |
| Cholesterol less than 5 mg | Cholesterol 15 mg |
| Sodium 160 mg | Sodium 140 mg |
| Total Carbohydrates 15 g | Total carbohydrates 46 g |
| Sugars 10 g | Sugars 44 g |
| Protein 13 g | Protein 9 g |
| Vitamin A 0% | Vitamin A 2% |
| Vitamin C 4% | Vitamin C 4% |
| Iron 0% | Iron 0% |
| Calcium 45% | Calcium 35% |
How to choose a healthy yogurt when buying?
Yogurt is one of the products that has the largest product range in commercial supermarkets. Always look at the label when buying yogurt. Avoid flavored yogurt as it's high in sugars and contains artificial colors, sweeteners or thickeners.
If you haven't acquired taste for plain yogurt, you can flavor it with a teaspoon of homemade jam. It will still have less sugar than store bought flavored yogurt.
The best option is to make yogurt at home as it is healthier than store bought yogurt. You can make it with whole (full-cream) milk or organic milk with no added thickeners, additives and artificial colors.
Ingredients
Making your own yogurt is simple and easy. The first time you make this recipe, you will need to buy yogurt with active cultures to use as your starter culture. All commercial yogurt brands say on the label if they contain active cultures. You can also get the yogurt with live cultures from health food stores, online stores or even your friend that loves yogurt making.
Yogurt can be made using whole, 2 percent or low-fat milk. I recommend using whole milk as it makes naturally thick final product whereas low-fat milk makes thinner yogurt than store bought varieties. Note that commercial brands tend to add thickeners like gelatine to give non-fat yogurts a custard-like consistency.
Equipment
To make yogurt at home you do not need special equipment. Some people invest in yogurt maker, however it is not necessary as you can use one of incubators you already own like thermos, cooler or a conventional oven. I prefer using my conventional oven. Simply all I do is place yogurt in jars, put them in the oven and leave the oven light on for 8 hours.
Making yogurt requires around 30 minutes of your time plus around 8 hours to incubate. I suggest making the yogurt before going to bed and letting it incubate overnight.
Once you make your first batch of yogurt you can use your own homemade yogurt as a starter culture for all your future batches.
On the other hand, if you decide to make yogurt regularly, yogurt maker is a worthwhile investment. It makes the process foolproof and you can also make your yogurt into small sizes and portions for serving.
Yogurt cultures are temperature sensitive, so you may want to get an instant-read thermometer if you don't have one already.
You also need a small saucepan or small pot and some glass mason jars to store the yogurt.
Print
Homemade Yogurt Recipe
---
Author:

Total Time:

20 minutes

Yield:

1/2 gallon

1

x
Description
Yogurt is one of the most popular cultured dairy products. It is perfect with fruits, nuts and muesli for breakfast and it can be added to soups, salad dressings and sauces.
---
8 cups

(

½ gallon

) of whole or 2% milk

1/2 cup

of plain yogurt with active yogurt culture
---
Instructions
Starter culture: Set aside ½ cup of commercially bought yogurt with active live cultures and leave it out to cool to the room temperature.
Heat the milk: Pour the milk into a large size pot and gradually heat it over medium heat until it reaches 180°F.
Cool the milk: Turn off the heat and wait for the milk to cool down to between 106 and 110°F.
Prepare glass jars and a bowl: Wash four glass jars (more or less jars depending on the jar size you use) and the bowl with warm water. Fill them up with hot water and leave them aside.
Mix milk and yogurt: Wait for milk to cool. Empty the water out of the bowl. Pour in a cup of milk then add the room temperature yogurt. Whisk it to combine until smooth and until yogurt dissolves in the milk. Add the rest of the milk and whisk it until the mixture is smooth again.
Transfer yogurt in glass jars: Empty the water out of the glass jars and pour in the yogurt. Secure the lids.
Place yogurt in oven: Place the jars into conventional oven with lights on and keep it there for the next 8 hours. Ensure you do not turn the oven on, only keep the light on. If you don't have a conventional oven you can use thermos. Be sure to rinse it with a hot water to warm it up before pouring in the yogurt. Avoid jostling the yogurt until it's fully set.
Taste it: You can start tasting the yogurt after 5 hours and remove it from the oven/thermos as soon as desired flavor is achieved. Keep in mind, the longer you keep the yogurt in incubator the yogurt will get thicker and flavor will become more tart.
Serve the yoghurt: After 8 hours in oven or thermos, put the jars of yogurt in the refrigerator and consume it within two weeks. You can drink the yogurt as it is or add your favourite fresh or frozen fruits, musli, make smoothies, etc.
Your next batch: Leave ½ cup of yogurt which will form starter culture for your next batch of homemade yogurt.
Notes
Equipment: whisker, thermometer, 4 glass jars, large pot and a bowl for mixing yogurt.
Nutrition
Serving Size:

100 grams

Calories:

61

Sugar:

6 grams

Sodium:

59.5 mg

Fat:

3.3 grams

Trans Fat:

0 grams

Fiber:

0 grams

Protein:

3.5 grams

Cholesterol:

5 mg
Tips
Place the inoculated milk at 110 F or 43 C.
Do not agitate or move the container for at least 6-10 hours. It is best to place the container or jar on high shelves where they will not be disturbed for at least 6-10 hours.
You might feel tempted to peek in at the yogurt, but please avoid the temptation to do so. Moving the yogurt will agitate it and cause heat loss.
The longer the yogurt sits out, the more lactic acid bacteria will develop in it. This will give a sour or tart taste to the yogurt.
In very warm weather, do not leave the yogurt to ferment for long. As soon as it sets, keep it in the refrigerator or else it will become very sour.
After fermentation, place the yogurt in the refrigerator to set. At least let it set for a couple of hours before using it in your recipes or for consumption.
For thicker yogurt, strain it through cheesecloth or follow the Greek-style yogurt recipe.
FAQs
Is yogurt dairy?
Yogurt is dairy. However, it is safe enough for consumption for people who are lactose intolerant.
Many physicians who ask patients to limit their dairy intake recommend yogurt as a substitute to get calcium, protein, and similar.
Yogurt is milk fermented with beneficial organisms. The active cultures in yogurt are good for the intestinal flora and evidence suggests that it is an immune stimulant.
Nevertheless, people with a true milk allergy should avoid yogurt. However, many cases have shown that people who are lactose intolerant can tolerate yogurt.
There are also vegan yogurt options.
Is yogurt healthy?
Yogurt is very healthy.
The beneficial bacteria cleanse the colon and intestines and replace the good flora in the GI tract.
Although it is dairy food, the culturing process makes it a live food that is extremely healthy.
Even people with lactose sensitivity can tolerate yogurt thanks to the stimulation of lactase enzyme in it.
Studies have shown that yogurt can reduce bad cholesterol.
Calcium from food is also more readily absorbed thanks to the presence of cultured foods like yogurt. Moreover, yogurt can kill bacteria that are responsible for ulcers and gastritis.
How to tell if yogurt has gone bad?
The smell, taste, and appearance of yogurt can all indicate whether it has gone bad or is safe for consumption.
If your yogurt is stringy and not set, then it may be due to the use of poor quality of milk, inadequate fermentation or improper ambient temperature.
Sometimes, yogurt that is made to sit out for longer than necessary can develop strong tart or sour taste.
You could strain this yogurt and use it in your dessert recipes to salvage it. Yogurt which has developed pinkish or grayish film is likely spoilt and best discarded.
How long does yogurt last?
You can enjoy your yogurt for up to a week provided you place it in the refrigerator. Its flavor will continue to increase since fermentation does not stop and is a continuous process, despite the cool temperatures.
Ready-to-use yogurt culture pouches can last in the refrigerator or freezer for nearly 2 years.
How long can yogurt sit outside?
In warm weather, do not let fresh homemade or store-bought yogurt sit outside at room temperature for more than 2 hours.
You must consume it immediately or keep it in the refrigerator. Throw away the yogurt if it has developed an acrid taste or funny color.

Let me know about your yogurt making experience in the comments below.
Related posts