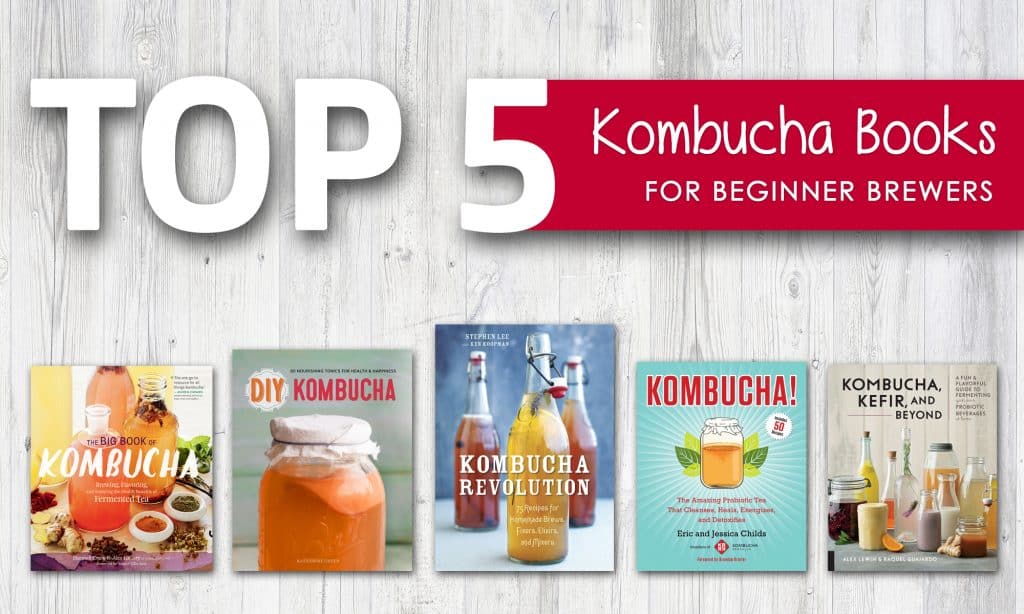 Fermented foods have taken the world by storm due to their nutritional and health benefits. This ancient way of preserving food helps to improve the digestion and strengthen our immune system. Drinks are the most versatile and tasty part of fermented foods.
Kombucha is one of the fermented tea drinks that has many nutritional, healing and detoxifying effects.
If you would like to start brewing kombucha at home or just want to learn more about this tea drink, it's worth buying a couple of books to accelerate your learning curve.
Here we are going to review the best kombucha books that cover the science, the basics, and the recipes for brewing kombucha at home.
The Big Book of Kombucha is by far the most well known and comprehensive book on kombucha. It is written by Hannah Crum and Alex Lagory and is a Silver Nautilus Book award winner of 2016. Hannah has been brewing kombucha for over 13 years and is widely known expert of kombucha fermentation.
The Big Book of Kombucha covers brewing, flavoring and enjoying the health benefits of this fermented tea.
Inside this book, you will find:
More than 400 recipes for drink formulation, including 268 unique flavor combinations.
Complete guidelines about how to do it from start to finish with illustrated step-by-step instructions and troubleshooting tips.
Detailed information on the kombucha drink history, nutritional and health benefits and recipes for brewing beginners for making various foods and drinks with Kombucha.
DIY Kombucha is written by Katherine Green, a writer and food educator from Portland. In the book. Katherine covers 60 nourishing homemade tonics for health and happiness.
Homemade kombucha tea is easy to make and healthiest drink having the fresh fragrant and fizzy appearance you have yet to try.
Inside this book, you will find:
Clear information on the process of creating your own flavorful probiotic enriched kombucha drink at home including the information on the alcohol content in kombucha.
All the fermented tea recipes including master teas, infusions, quick mixes juices, smoothies and even healthy cocktails.
Instructions to develop the skills and confidence of homebrewers to make delicious homemade beverages or drinks.
Another popular book is Kombucha Revolution with 75 recipes for homemade brews, fixers, elixirs and mixers, written by Stephen Lee and Ken Koopman. The authors reveal the secrets to brewing the perfect batch of kombucha at home and caring for your own SCOBY.
Inside this book, you will find:
Authors favorite recipes and instructions from the brewers, bartenders and chefs for infusing your drink with herbs, spices and fruits.
Unique kombucha recipes such as Lavender–Green Tea Kombucha, Cranberry Bitters Cocktails, Kombucha Vinegar, Green Smoothies, Kombucha Lime Ceviche, and Kombucha Pear Sorbet. If you like to push the boundaries and want some inspiration, then this book might be a good choice for you.
Kombucha, an amazing probiotic tea that cleans, heal, energize and detoxifies the body, is another book for brewer beginners written by Eric Childs and Jessica Childs.
This book contains:
The brewing knowledge and recipes in detailed and easy to read format.
The authors reveal inventive uses for the kombucha beverage in cooking, cocktail and other food products.
Kombucha, Kefir and Beyond is a fun and flavorful guide to fermenting your own probiotic beverages at home, written by Alex Lewin and Raquel.
Inside this book, you will find:
Healthy and innovative recipes and instructions to show you how to brew your own delicious probiotic beverages in your own kitchen at home.
The history of fermentation, why to ferment your drink and their health benefits.
The books details all the basics including the process, tools and how to get started brewing kombucha.
The recipes for lassis, lemonade, kefir, wine, beer, kvass, switchels and vinegar. It shows you how to experiment with these drink recipes to suit your taste.
Related posts
How to Grow Your Own Kombucha SCOBY