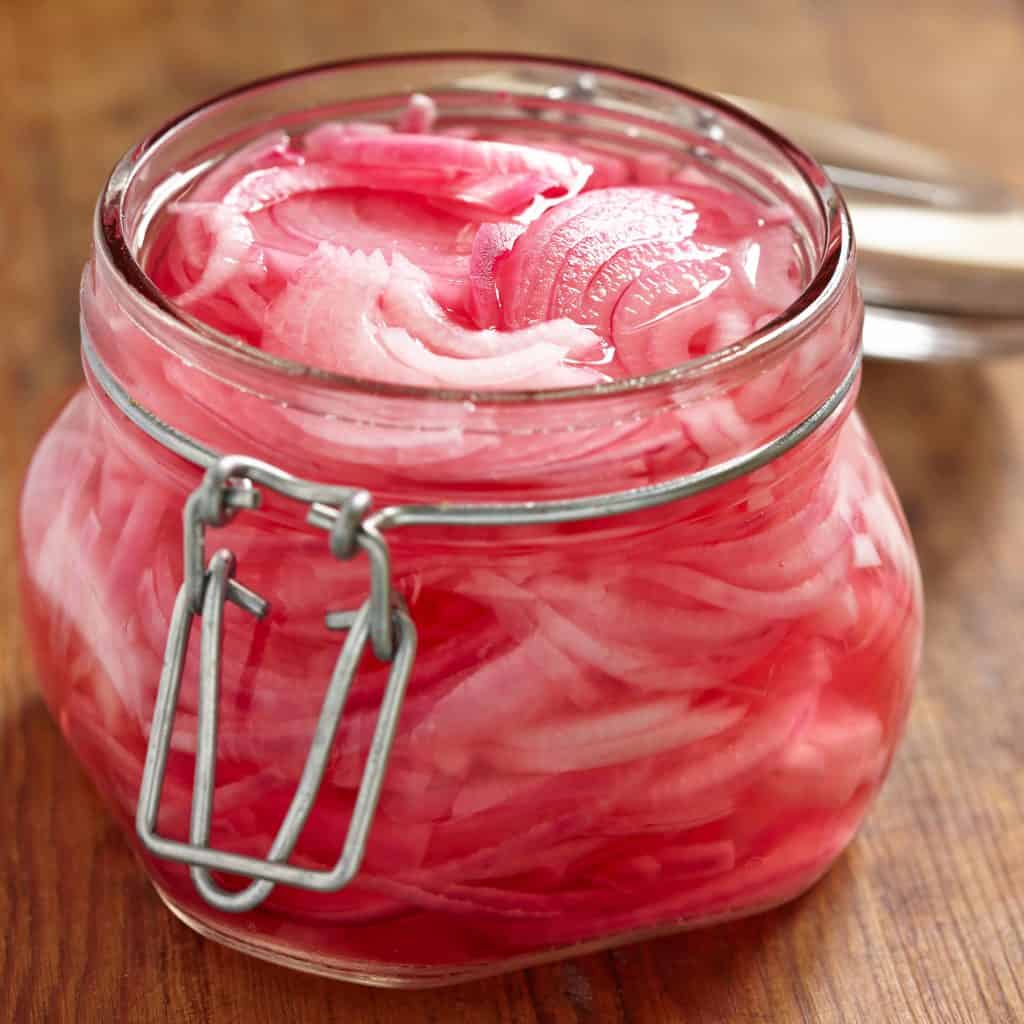 While today homemade pickles are treasures, decades ago, they were part of a rural lifestyle that also served as a means of survival. Pickling was a way of preserving produce for the winters when food became scarce.
Rural Americans were pickling every produce known to man by the beginning of the twentieth century. During the Gold Rush, mountaineers carried pickled produce such as sauerkraut, pickled beets, pickled onions, and other preserves that helped them survive in the harsh conditions.
Visit any house in this era and you'd probably be proudly shown jar after jar of sauerkraut, bread and butter pickles, bean pickles, watermelon rind pickles, pickled corn, pickled eggs, pickled grapes, pickled pears, pickled pig's feet, and, yes, pickled onions.
Pickled onions, by far, are the most versatile and easiest of all pickles. They are ideal for people who do not like the harsh, pungent taste of raw onions. Pickled onions may be made using small onions or any variety of onions that you like. You can also use the white onion sets that are sold for spring planting.
However, what works best are red onions. Red onions are full-flavoured and readily available. They also have tons of health benefits as they are rich in folate, calcium, magnesium, manganese, quercetin, allicin, and chromium, in addition to vitamins B6, C, and K.
But what I love most about pickled red onions is the colour. The red colour becomes more vibrant after pickling and you will be impressed with this fact every time you eat them!
Red onions have also undergone many studies in relation to disease prevention, particularly in cancer prevention, and also in maintaining joint and cardiovascular health. Moreover, they may also help with diabetes management and weight loss.
Benefits of pickling red onions
Cultures around the world that eat pickled or fermented foods are known for their longevity. Lactic acid fermentation makes food last longer and also enhances its health benefits by introducing beneficial microbes in it.
Pickling the onions enhances their taste and transforms them to a more assimilable form.
Pickled red onions activate the digestive juices and are hence great for restoring health.
When you consume pickled foods like pickled onions and sauerkraut, you can refurbish beneficial bacteria in the intestines and thus, enable the digestive system to assimilate grain-and-vegetable centred diets. The intestinal flora is often diminished by a diet high in meat and sugar.
Pickling onions helps preserve them for a long time, making them a great addition to sauces, curries, gravies, and other staples that require raw onions.
What to eat pickled red onions with?
People who are not a fan of raw onions will definitely love pickled onions. Pickled red onions are sweet and tangy and a perfect complement to many recipes.
You can also use pickled red onions in vinaigrettes, condiments, tacos, quesadillas, wraps, subs, burritos, burgers, sandwiches, and salads. They have a beautiful colour and their tangy, sweet taste does not have any of that raw, oniony taste which many people dislike.
Pickled red onions are super easy to make and they are great to have on hand at all times. You can also make them all year round. Add them to soups, curries, gravies, or broths for an extra kick. True onions lovers might even eat them straight out of the jar!
Print
Pickled Red Onions Recipe
---
Author:

Prep Time:

15 minutes

Total Time:

15 minutes

Yield:

4 cups

1

x
Description
Here is a delicious recipe for pickled red onions.
---
Scale
Ingredients
2 cups

red wine vinegar

4

lbs red onions

2 cups

granulated sugar

1

–

2

bay leaves

2 tsp

cracked black peppercorns

4 tbsp

grenadine

1 tsp

kosher salt
---
Instructions
Peel and slice the onions. Make sure you slice the onions thinly. The thinner you slice them, the better their flavor would be. You can use a mandolin for the job. If you do not have a mandolin, use a sharp knife to make slivers or thin slices of the onions.
In a pot, boil the vinegar, sugar, bay leaves, peppercorns, and grenadine.
Pack the onion slices tightly in mason jars.
Pour the hot vinegar mixture over the onions.
Use the back of the spoon to tamp down on the onions and submerge them fully in the brine. Seal the jars while the brine is still hot.
If you want to serve them right away, wait at least one hour for the flavors to emerge.
Refrigerate the onions for up to a month.
Variations: Add 1-2 tbsp dried oregano to the onions for greater flavor. You can also add all-spice, ground coriander, powdered cumin, and/or fresh chopped coriander leaves to the recipe.
---
Notes
Grenadine is sanguine syrup made with a base of sugar and pomegranates. Go to any liquor store, or online and chances are that you will get only one or two brands of this syrup. Look at the label. Chances are that it mentions high fructose corn syrup and red color. Most grenadine brands available today do not contain real pomegranates. 
Pomegranate juice in grenadine imparts a beautiful red color to the pickles. It also prevents oxidation and imparts anti-inflammatory properties to the pickle brine. So ensure that the brand you choose contains Pomegranate juice.
Instead of grenadine, you can also use thawed, frozen, orange juice concentrate. This imparts a sweet and tangy flavor to the onions. Alternatively, add a dash of lemon juice.
Vinegar used in the recipe can also be white vinegar, apple cider vinegar, or rice vinegar. 
When using apple cider vinegar, use diluted. Add equal quantity of water to the vinegar and do not heat it. Pour it straight on the onions along with salt and sugar. Red onion pickles made with apple cider vinegar last for about 3 months.
Conclusion
True onion lovers are going to love these onions and might even eat them straight out of the jar! They also look very pretty and their colours become more vibrant with time. Serve them with any of your favourite dishes and enjoy!
Recommended
How to Make Pickled Cucumbers at Home