People who take probiotics often experience better digestion, skin health, nutrient absorption and immunity. When we ingest colonies of good bacteria or probiotics, it increases the colonies of healthy bacteria in the gut while decreasing the bad bacteria.
The benefits of probiotics have been recently confirmed by a growing body of medical and nutritional research.
Good bacteria or probiotics are prevalent in lacto-fermented foods and drinks so it is very easy to include it in your diet.
Let us take a look at the list of probiotic foods available today:
1. Yogurt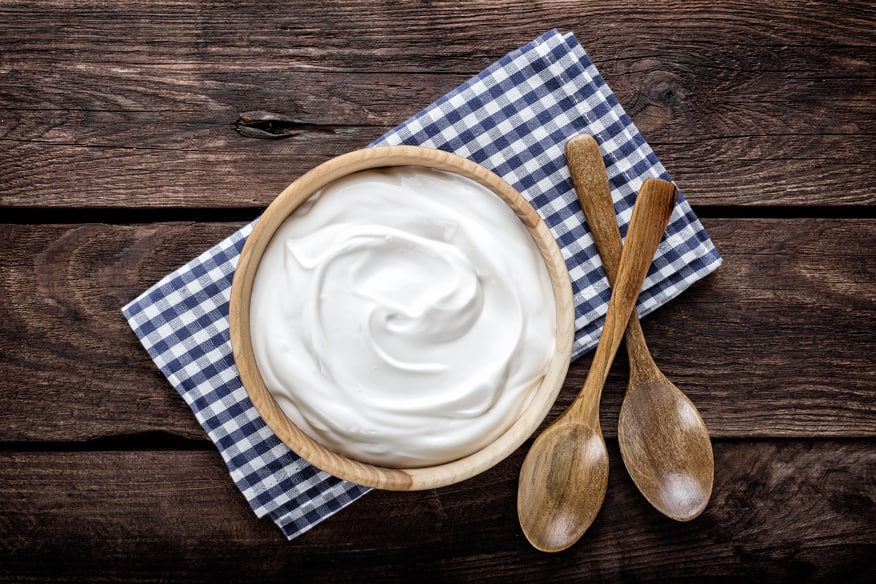 What is it
Yogurt is a thickened milk product cultured by several species of beneficial bacteria. It is the simplest of all cultured probiotic foods to make. These days you can easily buy plain probiotic rich yogurt from the market. But as with most foods, it is best to make it at home.
You can buy dry starter culture kits to make your own yogurt. These kits are an easy and portable way to make your own yogurt but they can be expensive if you want to make yogurt on a regular basis. In such cases, you only need to save a bit of plain yogurt to make your subsequent batches.
Origins and history
The origins of yogurt, like the origins of all fermented milk products, are murky and vary culturally. While the exact origin is difficult to ascertain, they are likely to date back to at least 10,000 years. As per Persian tradition, Abraham attributed his longevity to yogurt. The Balkan people also ate yogurt and were noted for their longevity.
Health benefits
These days, yogurt is also readily available in nearly 400 different flavors that are more pleasing to most palates. Many manufacturers are now adding even more bacterium like Lactobacillus Acidophilus and Bifidobacterium species after fermentation to further enhance the health benefits of yogurt.
A study conducted on the probiotic strain N1115 in yogurt has shown that regular consumption of this healthy probiotic food may reduce risk of acute upper tract infections in the elderly.
How to make
Making yogurt is easy: you only need two ingredients-plain milk (skim or whole) and starter culture. Organic or grass fed milk is best but you can also use any variety of milk. Simply boil the milk and cool it down to between 110-115 F. Add the yogurt culture and allow it to rest for 8-10 hours in a warm place. Your thick, delicious plain yogurt is ready for consumption!
Read my comprehensive guide for step by step instructions on how to make yogurt.
2. Kefir
What is it
Kefir is a type of cultured milk that has demonstrated properties that benefit the GI tract and immune system, inhibit tumor formation and lower cholesterol. It has been recommended as the perfect food for infants, convalescents, elderly people and individuals with impaired digestive activity.
Origins and history
Kefir is believed to have originated in the Caucasus mountains, Russia. It is not clear whether all kefirs originated from the same original culture since microbial analyses of samples taken from different places show different microflora populations.
Health benefits
Since it stimulates peristalsis and flow of digestive juices and saliva, kefir has been recommended as the perfect post operative food particularly to patients who have had abdominal surgery that causes temporary cessation of peristalsis.
Like yogurt, kefir also contains less lactose than regular milk. This property makes both, yogurt and kefir, ideal foods for people with lactose intolerance.
How to make
Kefir is easy to make at home. You need activated kefir grains which you add to warm unpasteurized milk. Place this at room temperature. Once the milk thickens, strain it. You can also make kefir from non-dairy milk like coconut, almond and cashew milk. These are great probiotic food options for vegans.
Related posts
How to Second Ferment and Flavor Milk Kefir
3. Cheese
What is it
Cheese is a complex food made from four simple ingredients: milk, salt, starter culture and an enzyme called rennet. It can be said that cheese takes 'milk to immortality'-after all, most aged cheeses last for long time.
Origins and history
Cheese making has been around for hundreds of years and the first cheese was 'accidentally' made by an Arabian merchant who carried milk in a pouch made from an animal's stomach.
The milk interacted with the rennet enzyme lining the pouch and got separated into whey and curd (cheese). The merchant found that the whey satisfied his thirst while the curdled cheese kept his hunger at bay.
Health benefits
Apart from probiotics, cheese is rich in calcium and protein. Natural cheeses like Cheddar, Colby, Monterey Jack, mozzarella and Swiss cheeses contain minimal amounts of lactose making them great foods for people with sensitivities.
Today, there are over 300 cheese varieties in the United States and they can all be categorized into different varieties like Blue, Hard, Processed, Semi-hard, Semi-soft, Soft-ripened etc. Cheeses with the highest probiotic content are Cheddar, Gouda and Feta.
Look for products that are marked as 'organic', 'probiotic' and 'made from raw milk'.
How to make
In the simplest form, cheese is made by separating whey from curdled milk. You can boil milk and add vinegar to it. Separate the whey using cheesecloth.
For detailed instructions see my How to Make Cheese at Home post.
4. Miso
What is it
Miso is a fermented soya bean paste that is made by inoculating friendly Aspergillus Oryzae microbes into rice that is left to ferment for a few days. The resulting mold is then mixed with soybean paste and salt yielding a peanut butter like mixture. This is used in soups and on vegetables as a flavoring agent. There are different types of misos:
Hatcho- made from soybean
Kome miso-made from white rice and soybeans as described above
Mugi miso-made from Barley and soy beans
Soba miso-made from buckwheat and soy beans
Genmai miso – made from brown rice and soybeans
Natto miso-made from ginger and soy beans
Origins and history
Miso origins in Japan are murky and unclear and it may have originated from Chinese chiang. Buddhist monks made miso and consumed it at the imperial courts. Miso soup became popular in Japan during the Kamakura period.
Health benefits
Miso is a great source of protein, vitamin B2 and B6, iron, zinc, copper, manganese and phosphorus. It is also a good source of dietary fiber.
How to make
In its basic form, miso is made by cooking soybeans and crushing them. The paste is then mixed with koji grains inoculated with Aspergillus mold, sea salt and water, and fermented.
The rich amber liquid that rises to the surface is called the tamari.
5. Sourdough bread
What is it
Sourdough bread is one of the most ancient breads having tons of health benefits. It has a sour taste and slightly different texture compared to regular white bread.
Lactobacillus is the family of bacteria that plays the lead role in making sourdough. There are many variations of lactobacilli. However, they aren't all suited to make this bread as some are better for making other probiotic, fermented foods like buttermilk, yogurt etc.
That is the main reason why sourdough bread tastes change from baker to baker. It depends on the variety of lactobacillus making for its unique taste.
Sourdough bread also contains special yeast called Saccharomyces exiguus. This yeast thrives in an acidic environment and acts as a special preservative that keeps sourdough bread fresh for long periods of time.
Origins and history
In olden times, sourdough was actually used as dog food for pedigree dogs that kept company to nobility.
Bread made from sourdough black or rye bread was used to make healthy Kvass – a Russian fermented drink. In the United States, sourdough bread became extremely popular during the days of the Gold Rush when gold miners carried it on their expeditions. The bread stayed fresh for long and gave miners much needed energy in the treacherous mountains.
Health benefits
The medicinal properties of sourdough bread are even believed to heal wounds and treat burns. Many studies have been conducted on the health benefits of sourdough. One finding is that if you eat sourdough in the morning, it can help keep your GI index in balance all day.
Additionally, the blood pressure also drops, keeping us calmer. Sourdough bread also increases acetylcholines-neurotransmitters – that affect particular parts of the nervous system.
How to make
Sourdough bread starter cultures are readily available. You need flour with wild yeast spores, lactic acid bacteria, and water. Mixing the flour with water will start the fermentation process by releasing carbon dioxide. You can also easily buy fresh sourdough bread.
Related posts
How to Make a Sourdough Starter
Fluffy Sourdough Pancakes Recipe
6. Kimchi
What is it
Kimchi is one of the crown jewels of fermented probiotic foods. The popularity of this spicy, pickled side dish has grown exponentially the world over in recent times. It is prepared by fermenting Kimchi cabbage, red pepper, spices, cucumbers, radishes etc for certain period of time.
Origins and history
Kimchi is believed to be nearly 3000 years old and Koreans have always known about its health benefits.
In Korea, there are hundreds of varieties of kimchis eaten today including a cold water kimchi soup called water kimchi. Kimchi is very close to the heart of Korea's national consciousness.
Health benefits
Kimchi is a low calorie food containing tons of vitamin C, vitamin B and beta carotene. It is also rich in minerals like sodium, calcium, potassium, iron and phosphorus. Not only is fermented kimchi a great source of probiotics, it has also displayed antimutagenic, anticancer, antioxidants and anti-aging effects.
Kimchi boosts immune function and improves intestinal health. It has displayed anti-obesity effect and is known to increase appetite in sick individuals.
How to make
Combine shredded cabbage, chopped green onions, minced garlic, grated ginger and red pepper flakes and salt. Place the mixture in a pot and crush with a pound crusher. Add vinegar or water and place the tightly sealed jar at room temperature for a few days. Burp the jar daily to release pressure. You can see my easy kimchi recipe for step by step instructions.
7. Sauerkraut
What is it
Sauerkraut is very similar to Kimchi. It contains pickled cabbages and other vegetables that are fermented for a certain period of time.
Origins and history
Fermented sauerkraut was considered the most important vegetable in the Roman Empire owing to its medicinal values. In early times, sauerkraut was made by soaking cabbage leaves in vinegar or sour wine.
By medieval times, especially in Germany and Poland, sauerkraut was made using shredded cabbage soaked in brine with berries, herbs and other seasonings. This superfood was a staple survival food in harsh winters of Northern Europe where it is frequently consumed.
Sauerkraut also became a base for cabbage and potato soups in many European nations.
Health benefits
Sauerkraut is rich in vitamin C and it has probiotic lactic acid bacteria – the same bacteria that are present in our intestines. So every time you eat sauerkraut, you supply an additional army of bacteria that provides a helping hand to the existing bacteria in the intestines. It is therefore recommended to patients who have taken antibiotics or chemotherapy treatment to quickly rebuild colonies of healthy bacteria in their intestines.
How to make
Sauerkraut recipe is quite similar to kimchi above. These days, you can make sauerkraut in a variety of ways including adding quartered apples to shredded cabbage – which tastes delicious.
It is best to make sauerkraut at home instead of buying from stores. This is because; manufacturers heat their batches of sauerkraut to kill bad bacteria and increase shelf life. However, this also kills the healthy, probiotic bacteria leaving behind a can of fermented cabbage that isn't probiotic anymore.
To learn how to make sauerkraut at home, check out the below related posts.
Related posts
8. Ethiopian Injera
What is it
Injera is a flat, porous fermented pancake central to Ethiopian cuisine. It is eaten for breakfast, lunch or dinner. The flatbread – the equivalent of Ethipian sourdough bread – has the perfect texture and sponginess to mop up sauces and curries.
At the heart of injera is the preferred grain for making it-known as Teff or Tef – a gluten free ingredient that is well tolerated even by celiac disease patients. Injera is the foundation of every Ethiopian traditional meal.
Origins and history
Injera is the staple bread of Ethiopia. The origins of tef, the grain used for making it is believed to predate the introduction of wheat and barley in the region.
Health benefits
Injera has many health benefits:
Helps manage blood sugar. If you are diabetic, you might want to add teff to your diet as it has relatively low Glycemic index which helps manage blood sugar levels.
The fiber content of injera is beneficial for people suffering from constipation.
Teff injera is low in sodium and fat, rich in minerals and high in protein.
How to make it
Injera is made by mixing cereal flour (usually teff) with water. The resulting dough is inoculated with ersho – a starter culture and fermented for a couple of days.
You can also make Injera using red or white teff, sorghum, barley, corn or a mixture of two or three of these grains.
9. Tempeh
What is it
Tempeh, like miso, is a fermented product of soybeans. It has all the health benefits of soybeans in addition to the probiotic goodness that is the hallmark of fermented foods.
Until recently, you could only buy tempeh from specialty stores and Asian food stores. But these days, as demand has grown, tempeh can be found in the refrigerator section or freezer section of conventional stores.
Well fermented tempeh has a thin whitish cover with few black or grey spots. If a tempeh has pink, yellow or blue spots, then it may have been over-fermented.
Tempeh can stay in the refrigerator for up to 10 days. Frozen tempeh can also stay fresh for several months.
Origins and history
Several scholars believe the tempeh may have originated in East or Central Java, Indonesia several centuries ago. Many believe that it may be nearly 2000 years old – probably older than the Chinese soybean koji made by inoculating cooked soybeans with wild yeasts. Early traders to Java may have brought this method of fermentation from China.
Health benefits
The organisms that make tempeh also make vitamin B12; so tempeh is a good source of this B vitamin. It also rich in magnesium, copper and iron, and is a great source of monounsaturated fats.
How to make
An easy way to prepare tempeh is to marinate with soy sauce, tamari, garlic, olive oil and other herbs for 20 minutes and then bake it for at least 15-20 minutes at 350 F. This is a great food for vegans; baked tempeh makes delicious replacement for luncheon meats and wonderful protein rich addition to salads.
10. Ginger beer
What is it
Ginger beer is a fermented beverage that is naturally carbonated during the brewing process. Do not confuse ginger beer with ginger ale. Ginger ale is just carbonated water flavored with ginger and sugar. Ginger ale does not contain probiotics and has a clear rather than cloudy appearance characteristic of ginger beer.
Origins and history
Sweet, dark and yeast fermented ginger beer became extremely popular in the UK in the 1800s. Drinks similar to it – particularly the ginger ale – were also sold around the same time. However, for a while at least, ginger ale lived in the shadow of the ginger beer.
Health benefits
Apart from its probiotic goodness, ginger beer also has health benefits proffered by ginger such as improved digestion, counterirritant and nausea relief.
How to make it
You need only four ingredients to make ginger beer: ginger, water, yeast and sugar. Making ginger beer takes only a few minutes to put it all together. However, you need to ferment it for at least 24-36 hours in order for it to get bubbly. Do adjust the quantity of ginger for a milder or stronger flavor.
11. South Indian Dosa and Idlis
What is it
Idli and dosa are Indian fermented foods full of probiotic goodness. Idlis are soft, round, white fermented breads while dosas are crispy or spongy crepes like the Ethiopian Injera above.
Origins and history
The origins of these fermented foods are ancient, no doubt. Idli and dosa are integral parts of South Indian cuisine. Idlis have even been mentioned in 10th century Kannada literature work, where they are referred to as iddlige and said to be made with urad dal or black gram lentils.
The modern versions known as the idlis may have originated two centuries later. Many temples in South India serve idlis as part of their Prasad or offerings to their devotees.
Health benefits
Idlis are very easy to digest and hence recommended to elderly patients and infants.
Both idli and dosa are protein rich and probiotic and hence recommended to people recovering from illness or those taking antibiotics for long periods of time.
How to make
The batter for dosa and idli is made using rice, lentils and fenugreek seeds. The seeds and grains are soaked in water for up to 8 hours and then ground into a coarse batter.
This batter is allowed to rest and ferment for 6-8 hours at warm temperature during which it develops probiotic bacteria.
During the resting period, the batter rises slowly incorporating air into it. The fermented batter is now ready to be made into delicious pillowy soft idlis and/or crispy dosa crepes.
Idlis do not contain any oil which makes it an excellent food for weight watchers. You can also make gluten free and healthier idlis with millet, oats and other ancient grains.
12. Kombucha
Kombucha is sweet, fermented probiotic tea that has become the drink of the millennium.
Origins and history
Like all fermented foods and beverages, the origins of kombucha are ancient.
The word kombu comes from Japanese word for brown tea algae and cha means tea. Some scholars believe that this ancient east Asiatic drink may have originated 'from the ocean'.
Health benefits
President Ronald Reagan famously drank this beverage to cure his stomach cancer and died in 2004 from natural causes.
GT Dave, the largest kombucha brewer in USA, actually started brewing this tea to help his mother while she was undergoing chemotherapy for cancer. She recovered completely and credits her healing to kombucha.
In the 1980s, after the Chernobyl disaster, a clutch of ladies were found to be immune to the after-effects of radiation. They all attributed their good health to daily consumption of kombucha.
Kombucha is immune boosting and known to benefit AIDS and cancer patients in preventing infections.
This amazing probiotic tea energizes, heals, cleanses and detoxifies the liver.
It can assist in preventing and healing joint issues.
The high levels of probiotics and enzymes in Kombucha strengthen the gut and ease digestion.
Many tests have shown that kombucha is actually as effective as prescription drugs in healing stomach ulcers and leaky gut syndrome.
How to make
To make kombucha, you need a starter culture or mother-known as the SCOBY. SCOBY is a combination of beneficial bacteria and yeasts that ferment the tea.
Read my posts on kombucha to learn more:
How to Grow Your Own Kombucha SCOBY
10 Smart Ways to Use Your Kombucha SCOBY
The Best Kombucha Fermentation Kits for Easy Home Brewing
Conclusion
As you can see above, you are spoilt for choice when it comes to healthy probiotic foods you can eat.
There is so much variety of fermented foods from all around the world.
They do take a little time to make, so if you are short on time you can always take a probiotic supplement.
Whether taken as part of your diet or as supplements, probiotics can have strong effects on health.