What are fermented foods?
Fermentation is the method of preserving foods; it is a process that has existed for thousands of years. Fermentation is what has given us our bread, pickles, wines, cheeses, and many other fermented foods.
Early records from 4000 BCE show us that fermentation has been around since early Egyptian civilization when people left sourdough at room temperatures, only to discover that it had risen after a few hours.
Of course, they did not know that the 'fermented' dough had developed friendly bacteria and yeasts.
They only enjoyed the sour taste and the way their bodies easily digested the baked bread.
Today, scientific studies have shown us that fermented foods are extremely beneficial for the human body. Thus, what was possibly an 'accidental discovery' has given us one of the greatest tools of creating and preserving food.
Fermentation has given us probiotic or 'friendly bacteria' rich foods that eliminate bad bacteria and harmful yeasts from the body and strengthen immunity to fight diseases.
The word ferment comes from Latin 'fervere' which means to 'boil'.
This is an apt description for fermented foods since the bubbling that occurs in these foods does give them the appearance of 'boiling'.
Fermentation also warms up the food and creates effervescent gases given off by the beneficial organisms. That is why sourdough 'bubbles' and champagnes and wines are so fizzy.
Nearly every tradition and culture has some kind of fermented food or drink.
Germany gave us sauerkraut where the word 'sauer' means sour.
Legend goes that sauerkraut was accidentally discovered by workers making the Great Wall of China. They packed all their food in earthen pots and when they packed cabbage similarly, they discovered that it developed an awesome taste and flavor.
Cheese is another popular fermented food. Nomads may have accidentally discovered cheese when they stored milk in bags or canteens made from repurposed animal intestines.
The rennin enzyme in the intestines reacted with milk, curdled it and converted it into a delicious sour cheese which is so popular today. Cheese is also packed with healthy nutrients; Zoroaster, a Persian is believed to have survived for 20 years on cheese alone. Aristotle also praised cheese as shown by records from 300 BCE.
East Asian cuisines are rich in fermented foods and drinks. These countries have given us delicious and healthy fermented foods like sake, miso, and tempeh.
In short, fermented foods are the heart and soul of many cultures across the world.
So let's take a look at 10 popular fermented foods that can benefit your gut health.
List of fermented foods
Sourdough
Sourdough bread takes longer to make than the white loaves we find on store shelves. However, its production involves love, magic, and time. And the results show!
Sourdough bread grows old gracefully and tastes better as it ages. Evidence shows that sourdough was even carried by gold prospectors on their hunts during the Gold Rush. The bread provided them with energy all day long and kept them full longer.
Sourdough bread is very easy to digest and is rich in probiotic bacteria. The lactobacillus bacteria in sourdough gives the bread a delicious tang, improves gluten digestibility, and reduces the likelihood of developing intolerance.
A study published in 2011 showed that 60 celiac disease patients who were fed sourdough bread had no episodes of gastric trouble. The lactic acid bacteria in sourdough also enhance the body's ability to digest nutrients like zinc, magnesium, B vitamins, folic acid and a number of antioxidants.
Cheese
Cheeses like Swiss, cheddar, parmesan, Gouda and hundreds of others contain live probiotic microbes that are beneficial for health.
Fermented cheeses create an alkaline environment in the intestines and enhance production of gut friendly bacteria.
Alkaline environment fights inflammation and free radicals to ward off diseases and effects of stress, toxins and pollution.
Healthy fermented cheese also provides B complex vitamins including vitamin B12, riboflavin or B2, niacin or B3, folic acid and biotin.
Cheese is rich in calcium and protein. These days, you can also make non dairy cheese by culturing and fermenting nuts and seeds. This process enhances the digestibility of nuts and seeds and is especially beneficial for people with allergies to dairy foods.
Sauerkraut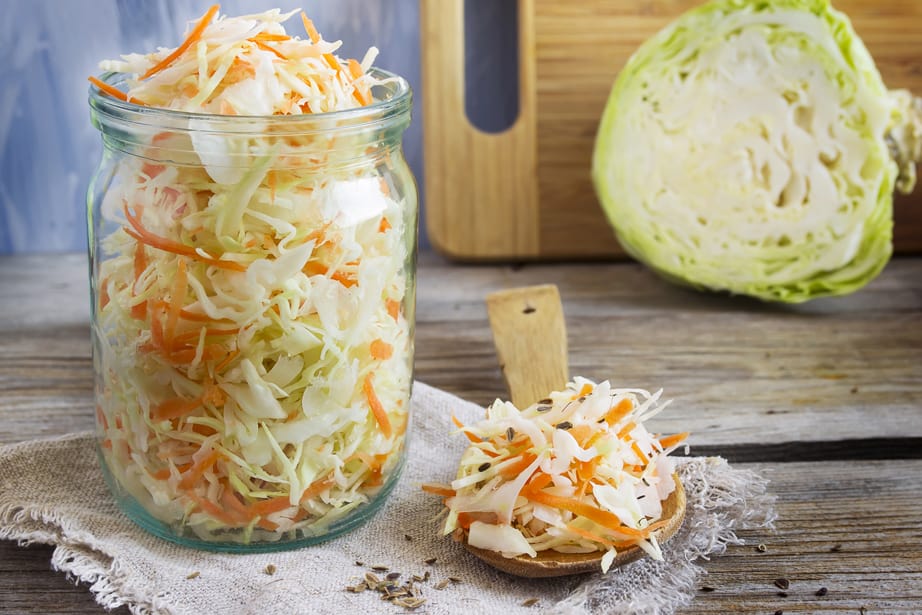 Sauerkraut that has been made the traditional way (without pasteurization) can give you a healthy digestive system.
Healthy digestion, in turn, is connected to radiant skin, good mood, immunity to diseases and a healthy weight. Sauerkraut can be considered as a 'beauty enhancing super food'.
Sauerkraut made from raw cabbage contains collagen building ingredients along with a healthy dose of vitamins C, K and healthy electrolytes. These nutrients also enhance bone and skin health and benefit the teeth.
Kefir
Kefir can be traced back to over a thousand years ago when peasants drinking this fermented probiotic beverage enjoyed superior health and delayed aging thanks to kefir.
One cup of kefir contains nearly 12 live strains of probiotic or healthy bacteria and almost 20 billion beneficial probiotic colony forming units (CFUs).
Study after study has shown that individuals who suffer frequently from sinusitis, urinary tract and gastrointestinal infections can benefit from kefir.
Kefir is also the go to food choice for people with Crohn's disease, IBS, colitis and lactose intolerance.
Studies have shown that prebiotic and probiotic elements (which are found in Kefir and other fermented probiotic foods) are proven to enhance brain health, lower production of stress hormones, reduce anxiety and improve mood.
Yogurt
It is widely accepted that yogurt is good for you. From promoting healthy digestion to boosting immune response, yogurt is considered by many to be a health food.
Even lactose intolerant people can benefit from yogurt consumption. The enzyme lactase in yogurt cultures assists in the digestion of lactose and also helps prevent diarrhea, flatulence and other gastric issues.
The probiotics in Yogurt are beneficial to people with celiac disease, Crohn's disease, IBS, and ulcerative colitis.
Yogurt nutrients like calcium, phosphorus, magnesium and protein functions together promote bone health. Its minerals like calcium, magnesium, and potassium also help lower blood pressure.
Yogurt may inhibit carcinogens and prevent certain cancers. It is a superfood known to inhibit rotavirus.
Yogurt's high zinc content benefits skin health. Topical application can prevent acne and alleviate skin discoloration.
Kimchi
Koreans love their fermented probiotic food – kimchi.
Kimchi undergoes two rounds of fermentation and develops nearly 200 types of healthy bacteria. It is believed to prevent obesity, boost immunity, and facilitate weight loss.
All raw ingredients used in making kimchi are rich in vitamins A and B complex. These can slow down aging.
Studies have proven that regular Kimchi consumption can prevent atherosclerosis and lower cholesterol.
Pickles
Pickles are a great way to get your daily dose of probiotic enzymes and microorganisms. They improve digestive health and also promote overall health.
Vegetables that are pickled with traditional fermentation methods help colonize the intestines with beneficial yeasts and bacteria that prevent diseases and enhance immunity. They also help the body fight infections, boost immunity, minimize digestive distress and ease the digestion of vegetables which may otherwise be difficult to digest raw.
Pickling enhances the flavors of vegetables and pickled vegetables are a great accompaniment to food.
If you do not like salads and have to take vitamin pills, then eating pickles could actually be a great alternative. Pickles can definitely help you increase valuable vitamins and minerals in your body. They are an easy way of adding more vegetables to one's diet.
Tempeh
Tempeh is traditionally fermented food from Indonesia where it is eaten with rice or as a snack.
This delicious food is rich in fiber and protein and has no inherent flavor of its own. That makes tempeh extremely versatile as it takes on the flavor of whatever it is cooked with.
Since it is a product of soybeans, it offers the same health benefits as that of soy. It may have cancer fighting abilities and is also rich in Vitamin B12.
This makes Tempeh a wonderful replacement for luncheon meats and a protein rich addition to salads. Vegetarians and vegans in particular should consider eating this plant based fermented food for its many nutrients.
Natto
Unlike other fermented forms of soy like miso and tempeh, natto is relatively unknown in many parts of the world.
Natto is eaten for breakfast in Japan after being mixed with rice and eggs.
This fermented, probiotic-rich food is made by washing, soaking and steaming soybeans that are then fermented with Bacillus natto organism. It is then aged in the refrigerator.
Natto is a traditional Japanese dish that has been around for hundreds of years. It is believed that the Samurai warriors ate natto as it increased their strength and reaction time in battle.
Studies on natto have found that it is extremely rich in Vitamin K as well as enzyme nattokinase which busts blood clots and may be a powerful weapon against cardiovascular diseases.
Miso
In Japan, there are nearly as many different types of Miso as there are cheeses in Europe.
You get different misos by varying the grains, salt content and length of fermentation.
Sweet miso is white, yellow or beige in color. It uses higher koji (which is the starter culture), lower quantity of soybeans and less salt. Time for fermenting sweet miso is lower.
Darker miso is made using more soybeans, more salt, less koji, and longer fermentation period. The nutritional content of the different misos naturally differs.
In general, all miso types contain protein, essential fatty acids, lecithin, isoflavones and other powerful nutrients.
Many herbalists even recommend Miso for problems like poor digestion, reducing hyperacidity, boosting libido, and in general for prevention of various health problems.
How does fermentation work?
Fermentation process transforms vegetables into pickles, relishes, sauerkraut, and kimchi. It can also transform fruits into delicious preserves, chutneys, relishes, and salsas.
Fermentation is the art of making beverages (both non alcoholic and alcoholic), herbal beers, delicious wild wines and healthy tonics. It is a method of preserving food that helps change beans into nutritious pastes like hummus, tempeh and miso.
Fermentation can give us deliciously tangy bread and cultured baked goods. It also turns dairy into creamy kefir, healthy yogurt, and delicious cheeses. You can ferment fish and meat into condiments, corned beef, delicious sausages and salamis.
Here is how fermentation process affects our food:
It makes food easy to digest
Increases vitamin and enzyme levels in foods
Restores digestion and boosts immune system as the beneficial organisms or probiotic elements in fermented foods populate the gut
Fermentation makes minerals in food easy to absorb
It produces beneficial acids like lactic acid in yogurt
It pre digests food and neutralizes harmful components.
Fermentation increases B vitamins and Vitamin C content in foods
The process also neutralizes components called anti-nutrients. These anti-nutrients (example phytic acid in nuts and seeds) prevent effective mineral absorption in the digestive tract leading to mineral deficiency.
Some benefits of fermentation also go beyond health benefits. The crunchy texture of fermented foods like sauerkraut and kimchi add fun and flavor to our meals. The process is also rather simple and does not need any fancy gadgets, tools or technology to make fermented foods. After fermenting, foods do not need to be cooked so you will be working smarter not harder!
What you can ferment
Here is a list of vegetables, herbs and fruits you can ferment
Apples
Arugula
Asparagus
Basil
Beets
Broccoli
Brussels sprouts
Cabbage (all kinds)
Cauliflower
Celery
Chard
Cilantro
Citrus fruits
Corn
Cranberries
Cucumbers
Dandelions (flowers, roots, stems etc)
Eggplant
Escarole
Fennel
Garlic
Grapes
Horseradish
Leeks
Mushrooms
Mustard greens
Nettles
Okra
Parsnips
Peas
Peppers
Raddish
Rhubarb
Scallions
Spinach
Sweet potatoes
Tomatoes
Turmeric
Turnips
Watercress
Zucchini and other squashes
Apart from vegetables and fruits, you can also ferment grains, beans, dairy, and meat. In short, any produce or natural ingredient can be fermented!
How to make fermented foods?
There are two types of fermentation:
Wild fermentation
Fermentation with starter culture
In the first type, fermentation takes place because of the bacteria and yeast present inherently in the food being fermented. This type of wild fermentation is used in pickling and making bread.
In the second type of fermentation, we need a starter called culture. The culture or starter can even be the same food that we are trying to make preserved from a previous batch.
For example, in order to make yogurt from milk, you need a little bit of yogurt from a previous batch to add to the milk to ferment it. The same goes for sourdough bread as well.
In both types of fermentation, you need to add good microbes that will produce lactic acid and discourage or destroy bad microbes that cause mold and food rot.
Salt is a necessary ingredient in wild fermentation. For making pickles, sauerkraut, kimchi and miso, we need the right amount of salt. Salt changes the pH of the environment and certain bacteria such as lactobacillus need salty environment to thrive in.
P.S. Use my Brine Calculator to determine the right salt to water ratio.
Here are the fermentation steps
Gather the right utensils – You don't need a lot, just some basics. At the most you at least need measuring cups, spoons, bottles, canning jars, thermometers, hydrometers, strainers, containers, lids, airlocks, weights, bottle brushes, buckets and carboys. Most of them you would already have in your kitchen. See my recommended fermentation supplies.
Sterilize your equipment – Fermentation needs clean environment. You can sterilize bottles and canning jars in hot water. These days, sanitizing tablets are also available and you need to follow the instructions on the product.
Basic techniques – Unlike cooking, fermenting does not require a whole lot of steps. You only need to gather the ingredients, set them up, adjust the environment and wait for nature to work its magic. Creating the right environment means you need to adjust the temperature. For example, in the cooler months, you may need to move the ferments to a warmer room or use heating wraps to keep the ferment warm. Just remember that certain ferments cannot be moved or jiggled.
Tips
Here are some tips for making fermented foods:
1. Use high quality ingredients
Making ferments at home is relatively easy as recipes are simple and require a few ingredients.
The base ingredients are usually water, sugar or salt, bacteria/yeast whereas the main ingredients are tea, milk, soybeans, cabbage, flour. It is essential that the base ingredients are good quality as that will help the fermentation process and the final ferment will have a better taste.
As bacteria feeds off sugar or salt it is important that both products are of high quality. Try to use a good quality salt and avoid using salt that contains anti-caking agents or is iodised.
Sugar used should be unrefined organic sugar. And water should be free of chlorine, chloramines and fluoride. I recommend the use of filtered rather than tap water.
2. Use appropriate equipment
Ensure mason jars, bowls and pots are properly washed with no residue. Use warm water to rewash all cooking equipment before using then sterilise all equipment to avoid growth of the wrong bacteria.
You should use wooden utensils instead of plastic or metal as the latter can damage cultures.
3. Ferment foods at room temperature
Room temperature varies between different rooms in the house.
Fermentation process generally takes between 48-72 hours so food should be kept at the right temperature.
Higher temperature will speed up the fermentation process, however, very high temperatures can cause the food to go off, hence, achieving the right temperature is essential.
Room temperature is considered to be between 71-75°F (22-24°C).
4. Store fermented food in the refrigerator
Once the desired taste is achieved you can place the food in glass bottles, jars, or containers and put it in the refrigerator.
Depending on the type of food it can be kept a week or so in the refrigerator. Keeping the food in the refrigerator will not change its taste but will stop or slow down the fermentation process. This means the food will not become much more sour.
5. Experiment with eating
You can eat your fermented food on its own, but you can also use your ferments as a condiment.
For example, add cereal and berries to your homemade kefir to make a perfect breakfast, add sauerkraut to your sandwiches or serve it with roast or sausages. Drink a glass of kombucha with your lunch or dinner.
You can incorporate your ferments into other recipes such as using kefir instead of buttermilk for your favourite muffins or pancakes.
Where to buy fermented foods?
It is best to make your own fermented foods so that you know they are truly and traditionally fermented without preservatives, pasteurization techniques or sneaky methods like vinegar pickling.
These methods improve shelf life but they also deprive the food of healthy bacteria and probiotic goodness that form the very essence of fermented foods.
If you search for traditionally fermented foods you might get lucky and find them at local mom and pop stores, artisan food shops, and whole food or health food stores.
For traditional beers and ales, you could visit local microbreweries.
A traditional baker might sell authentic sourdough bread while an artisan cheese maker might give you truly fermented, aged, and cultured cheese.
Having said so, some of the best places to find quality fermented foods include online retailers like Amazon, Cultures for Health, and local farmers markets.
Benefits of fermented foods
Fermented foods improve digestion by providing probiotic bacteria and restoring balance in the digestive tract. When digestion improves, there is a reduction in headaches, diarrhea, allergies, and other diseases.
Fermented foods are rich in live or living cultures. These probiotic and prebiotic elements enhance mineral and vitamin absorption to create a healthful balance in the digestive tract, boost immunity, and enhance brain health.
Fermented foods are rich in vitamins B and C as well as vitamin K.
With regular consumption of probiotic rich fermented foods, the intestines are in a better position to absorb calcium and other minerals. This improves bone health, cardiovascular health as well as strengthens the nervous system. Fermented dairy is the best source of calcium. Regular consumption of it can lead to improved dental health and overall well being
Dangers of fermented foods
Fermented foods are extremely beneficial and usually have had a safe record throughout history.
But like with anything, there can be some dangers associated with these foods. Of course, the benefits far outweigh the dangers but if food is not fermented properly, it could lead to spoilage.
Here are some dangers associated with fermented foods:
If you have Candida or thrush, be careful when consuming fermented foods with yeasts.
Certain fermented foods are high in allergens especially wines and certain cheeses. These can cause an allergic response in people sensitive to histamine compound.
There have been some reports that high consumption of fermented foods like pickles could be linked to esophageal cancer. This was reported in the 2009 British Journal of Cancer, based on a study conducted on high incidences of this cancer in China. These populations consumed high amounts of fermented or pickled vegetables. It is possible that the fermented produce had certain microorganisms and molds that produced compounds with carcinogenic properties.
Safety is always a concern when it comes to fermenting foods. There are many variables involved and due to this, food can spoil. Always use your eyes and nose as an early warning detection system before consuming the ferments.
Conclusion
Fermented foods can be safely used to proactively address immune disorders, digestive issues and psychiatric problems. They can also alleviate chronic conditions and positively influence overall health and longevity.
Comment below with your experiences eating fermented foods.
Related posts
30 Fermented Drinks You Can Make at Home
Top 5 Fermentation Books for Beginners
Wild Fermentation by Sandor Ellix Katz [Book REVIEW]
The Art of Fermentation by Sandor Ellix Katz [Book REVIEW]
Top 5 Kombucha Books for Beginner Brewers